LG 2022 42″, 48″, 55″, 65″, 77″ and 83″ C2 evo OLED TV
83/65/55/48/42 C2 shipping now from 4 warehouses across America
Description
LG C2, G2 & Z2 OLED TVs pack LG's enhanced α9 Gen5 AI Processor

Higher peak luminance capability with noticeably thinner bezels & slimmer depth
AI-4K upscaling & object enhancement unite to produce crisp & vivid imagery
Topping off LG's OLED new advancement this year is the Room-to-Room sharing feature, which will be available later this year, allowing compatible 2022 OLED TVs to wirelessly send a video signal from one TV to a compatible TV. Also new this year is the Always Ready feature, allowing the TV to act as a canvas for artwork, photos and music, or you can ask what the weather is today. All while the TV is in standby mode.
---
Below is LG's C2 with the included pedestal stand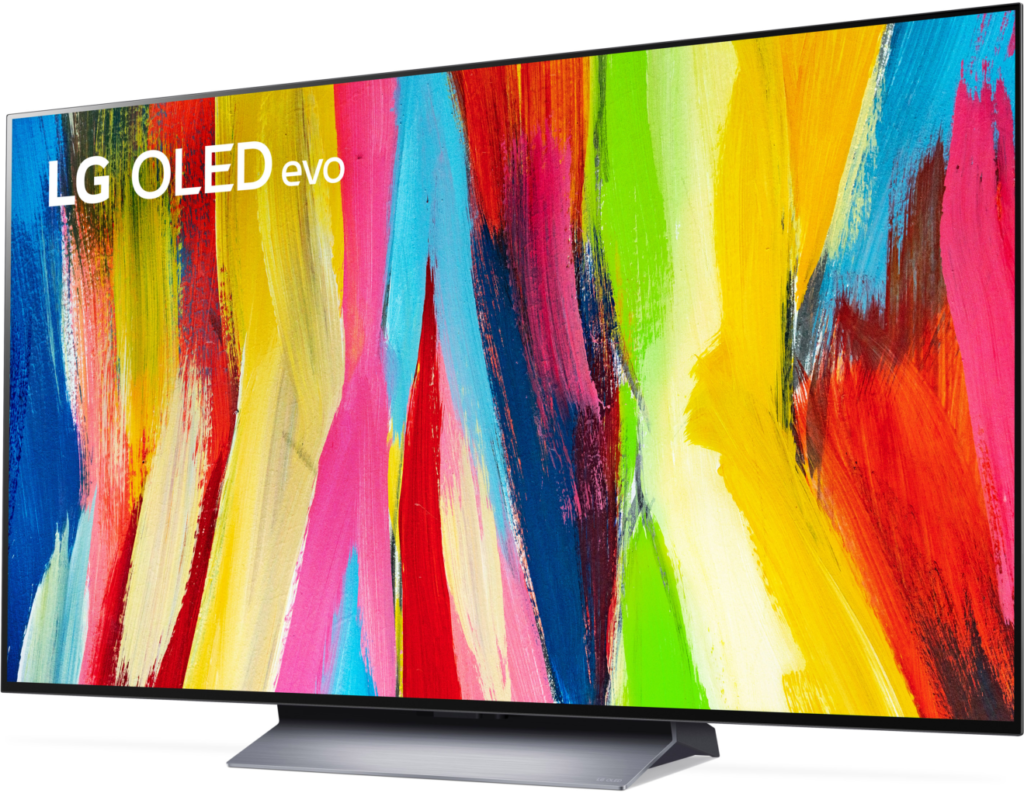 ---
LG C2 Series OLED 4K Smart TV w/a9 Gen 5 4K AI Processor key features:
Self-lighting OLED: Perfect Black, Intense Color, Infinite Contrast
LG's new evo module and the advanced a9 Gen5 AI processor controls deliver a accurate and brighter images
α9 Gen5 AI Processor 4K with AI Picture Pro & AI Sound Pro
Dolby Vision IQ and Dolby Atmos
webOS & ThinQ AI w/Hands-Free Voice Control
*LG's New evo OLED Module w/EX Enabled Dynamic Tonal Range & Full Color Volume
The Z2, G2 and C2 have narrower bezels that give that "all-picture" look for an even more immersive presentation
---
*OLED evo panel employed in the C2 and G2 is brighter vs. traditional WRGB OLED panel used in the B and A OLED series. OLED evo models are brighter than similar sized conventional LG OLED models not including 42-inch and 48-inch C2.  The B and A Series OLED TVs have LG's a7 Gen 5 processor so they also do not have LG's a9 Gen 5 processor that C2 Series was designed with.
SELF-LIT PiXELS have evolved with LG's brighter evo OLED module and special processing control. Together with new AI algorithms, powered by the advanced α9 Gen5 AI Processor, enable the display to be brighter than before and all with maintaining finely gradated tonal detail and full color volume.
The OLED G2 and C2 evo series boast an OLED tech upgrade with a new LGD OLED module that's even brighter* than their predecessors. The C2 series will now include Brightness Booster technology that works with LG's advanced α9 Gen5 processor and the new 2022 evo Panel to give you brighter picture, while still maintaining the perfect black. Backed by the same processor, the G2 will give you the brightest picture possible in an OLED screen with the inclusion of Brightness Booster Max, which has LG's new heat sync system to cool the OLED module so the new a9 Gen 5 AI processor can precisely control the larger dynamic tonal and color volume to deliver a stunning and naturally demential 4K HDR images. 
This year we have new sizes are available in the OLED category with the addition of a 42″ model in the C2 series, an 83″ version of the G2, and an incredible 97″ G2. The 88Z2 8K OLED is also now wall-mountable meeting the many requests for this capability. Your customers can also look forward to the latest smart TV platform—webOS 22—with customizable profiles for tailor-made entertainment for everyone in the household, even children. LG OLED was the first premium TV to support NVidia G-SYNC, so gamers will be thrilled that this partnership continues into 2022. Coupled with the picture quality benefits of Game Optimizer, this will take gameplay to new heights.
---
We deliver Nationwide

–

Email us w/questions
Additional information
| | |
| --- | --- |
| C2 | 42C2, 48C2, 55C2, 65C2, 77C2, 83C2 |