Sony 2022 55″ & 65″ A95K Master Series OLED TV
55″ & 65A95K Available Soon and we deliver Nationwide at No Charge!
Email us to get on our priority wait list
Here' a brilliant Dolby Atmos audio system upgrade exclusively designed and ready for the A80K, A90J, A95K, Z9K and X95K TVs.  Add Sony's new HT-A9 12 channel or the HT-A7000 7 channel Dolby Atmos Audio system and use the Z9K's built-in speakers for the center channel.
The HT-A9 and HT-A7000, along with Sony's $999 HT-A5000 perform with very excellent audio fidelity and immersiveness, and work very well in all room designs and environments, thanks to the built-in high performance up-firing and forward facing microphones.  The HT-A9, A7000, & A5000 auto calibration generated test tones are then processed by Sony's sophisticated auto calibration program.  This priority auto calibration system ensures every room design an accurate presentation of Dolby Atmos, DTS:X, and all surround sound and even 2-channel stereo performance that lives up to an audio enthusiast's delight.
Description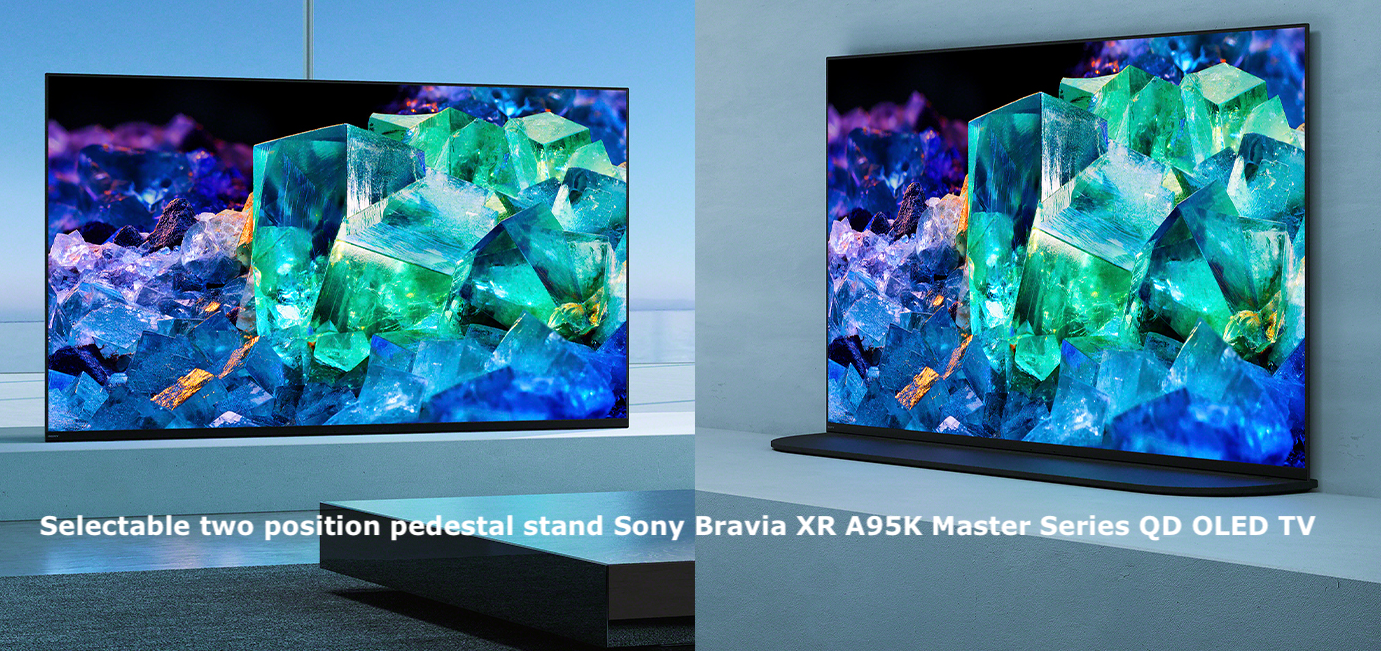 Sony's 2022 A95K comes in two sizes  –  XR-55A95K, and the XR-65A95K
All products & prices include delivery. We offer 1 yr interest free financing or credit card. Email or call 914-723-3344
Intelligent TV processing – Sony's Cognitive Processor XR understands how humans see the real world to deliver intense contrast with deep blacks, high peak brightness, and natural colors
Next generation picture and sound with Cognitive Intelligence
See how real your entertainment becomes and experience immersive depth and lifelike picture quality, powered by Sony's intelligent Cognitive Processor XR™. Revolutionary TV processing technology delivers enhanced contrast with detailed blacks and natural colors. Hundreds of thousands of individual on-screen elements are processed and remastered in the blink of an eye, boosting color, contrast, and clarity, bringing astounding realism to your content.
Our widest palette of naturally beautiful colors
Experience our widest palette of colors with breakthrough QD-OLED panel technology and see pictures that are naturally bright and vibrant. Powered by Cognitive Processor XR™ and enhanced by XR Triluminos Max, millions of individual, self-illuminating pixels deliver more colors than ever before for an elevated viewing experience. The saturation, hue, and brightness of every color is presented in exquisite detail, revealing subtle shades and differences as seen in real life.
Feel immersive realism with pure blacks and brighter colors
Drastically transform the look and feel of your favorite content with enhanced contrast and color of the BRAVIA XR A95K. By pairing our breakthrough QD-OLED panel and XR OLED Contrast Pro, both powered by the Cognitive Processor XR™, color brightness is boosted by up to 200% compared to conventional TVs, bringing scenes to life with pure blacks and our brightest colors.
The entertainment you love. With help from Google
See 700,000+ movies and TV episodes, plus live TV, all in one place. Google TV™ brings your favorite content from across your apps and subscriptions and organizes them just for you. Searching is easy – just ask Google. Try saying, "Hey Google, find action movies" to search across your favorite apps.
Bring the cinematic experience home, enjoy included movies with BRAVIA CORE™
With the BRAVIA CORE™ app, enjoy the latest Sony Pictures Entertainment (SPE) titles and the largest IMAX Enhanced collection. Use the included credits to choose from hundreds of the latest release movies to redeem. In addition, you're subscribed to an amazing selection of movies to stream anytime and as many times as you like.2 BRAVIA CORE is the first in the industry to feature Pure Stream™ technology, achieving near lossless 4K UHD Blu-ray equivalent quality with streaming up to 80 Mbps delivering stunning visuals and expressive sound quality.
Enjoy immersive and engaging cinematic content as the creator intended
See your favorite content the way it was always meant to be watched with a range of technologies that preserve the creator's intent. Dolby Vision™ brings scenes to life with striking highlights, deeper blacks, and vibrant colors. IMAX Enhanced™ content brings the immersion into the home with digitally remastered movies that provide full screen picture and more powerful sound – just as the creator intended. Netflix Adaptive Calibrated Mode allow you to enjoy Netflix original content in original studio picture quality by working together with the ambient light optimization feature of BRAVIA XR TVs to immerse you in your favorite shows by optimizing the picture brightness based on your room lighting conditions. BRAVIA CORE Calibrated Mode automatically adjusts to the optimal picture settings to create a truly exceptional at-home movie viewing experience.
Perfect for PlayStation®5
Take your gaming to the next level with BRAVIA XR TVs and feel the action all around you with detailed, responsive gameplay. See the advantage in high-performance games and near-instant on-screen action with dedicated Game Mode featuring input lag as low as 8.5ms. Only Sony TVs have exclusive features for the PS5® console. With Auto HDR Tone Mapping HDR settings of the PS5 console are automatically adjusted to your TV for detailed, high-contrast scenes. And with Auto Genre Picture Mode picture quality modes automatically switch between Game Mode when gaming and Standard Mode when watching movies for optimal picture settings.
Level-up your gaming with features specified in HDMI 2.1
With features such as 4K/120, VRR, and ALLM as specified in HDMI 2.1, BRAVIA XR TVs deliver a thrilling gaming experience. With 4K/120 you get up to 120fps on compatible games10 and input lag as low as 8.5ms, giving you the advantage in high-intensity gaming. Variable Refresh Rate (VRR) allows the TV to dynamically adjust the displays refresh rate to match the variable frame rates of the gaming device to avoid stuttering delays and screen tearing enabling smoother gameplay. And Auto Low Latency Mode (ALLM) allows your TV to recognize when a gaming console is connected and can automatically switch to low latency mode ensuring smoother, more responsive gameplay.
The screen is the speaker with sound and picture in perfect harmony
Hear an audio experience that matches how we sense the world. With Acoustic Surface Audio+™, dual large-sized actuators behind the TV vibrate to produce sound from the entire screen and elevate the soundstage enabling sound to follow the action on screen. Dual subwoofers deliver powerful bass and round out the sound for a truly immersive cinematic feel. And with Dolby Atmos support and 3D Surround Upscaling, everything you watch gets the true surround sound treatment. With sound and picture in perfect harmony, you'll hear more realistic sound and exceptionally clear dialogue.
Intelligent motion processing for fast-moving, blur-free scenes
Watching sports and action-packed movies just got a whole lot better. Powered by the Cognitive Processor XR™, XR OLED Motion combats blur by detecting and cross analyzing key visual elements in every frame. It intelligently creates and inserts extra frames between the original ones so you can enjoy smooth and clear action, even in fast-moving sequences.
Bring back lost texture and detail, the intelligent way
Whatever the content or source, you'll enjoy entertainment close to 4K resolution with XR 4K Upscaling. Powered by the Cognitive Processor XR™, XR 4K Upscaling accesses a vast database, intelligently recreating lost textures and detail for a real-world picture. See the authentic features of people's faces, identify every blade of grass, and marvel at the precise texture of buildings and scenery.
Hands-free entertainment with help from Google
Your TV is more helpful than ever. Use your voice to find movies, stream apps, play music, and control the TV. Ask Google to find a specific title, search by genre, or get personalized recommendations by saying, "what should I watch?" Even get answers like sports scores, control smart home devices, and more. Just say "Hey Google" to get started.
All your favorite streaming apps in one place
Sony TVs with Google TV give you access to all your favorite streaming apps in one place, including Netflix, Amazon Prime Video, Disney+, YouTube, the Apple TV app, HBO Max, Peacock, and many more. Get access to all your favorite movies and TV shows in a simple, easy-to-navigate interface and use Google Assistant to quickly find new content to watch.
Family-friendly smart TV
Discover a fun collection of movies and shows for the whole family. Create a Kids Profile that helps you guide children to age-appropriate content on streaming apps so they're not watching something they shouldn't be. Pick from a selection of playful avatars and themes, set parental controls to restrict what streaming services are shown, limit watching time, and even set bedtimes.
Works with AirPlay
With Apple AirPlay, you can share pictures, video, or audio to your television right from your iPhone, iPad, or Mac. Watch movies and shows from your favorite apps and the Apple TV app, or even Safari. Share your photos with everyone in the room.
Beautifully designed to complement your unique viewing experience
The Dual Style stand and premium metal bezel on the BRAVIA XR A95K is uniquely designed to fit your lifestyle. The minimalist front position setting offers a One Slate design for an immersive viewing experience. While the back position setting sets the TV closer to the wall for optimal TV placement. Integrated cable management keeps wires neatly hidden, so your furniture stays free of clutter and looks great from all sides.
Discover new ways to enjoy TV with BRAVIA CAM
Connect the supplied BRAVIA CAM for an even more dynamic viewing experience. Ambient Optimization Pro recognizes where you're sitting in the room and automatically optimizes the picture and sound accordingly. This means picture brightness is tailored to your viewing environment and audio comes through clearer and more immersive. Also, BRAVIA CAM can enable Auto Power Saving Mode when it doesn't detect anyone in front of the TV – automatically darkening the screen and saving power consumption. Have fun with your TV and enjoy video chat with friends and family on the big screen. And gesture control enables you to change channels, adjust volume, and more using simple gestures, no remote required.
Simple, premium backlit remote
Our all-new premium remote with metallic finish has been completely redesigned for effortless control of your TV. The compact size and simplified button layout ensure you have access to the most used buttons while being comfortable to hold in the hand, and the backlit keys means the remote is clearly visible, day or night. Easily find your lost remote with the finder function – simply ask your TV "Hey Google, find my remote" or press the button on the side of the TV. The remote will ring, allowing you to quickly locate it. And the special polyurethane coating allows you to easily wipe your remote and keep it clean.
Sony TVs are designed with the environment in mind
Sony TVs are engineered to deliver stunning designs with the environment in mind. Select BRAVIA XR TVs use Sony-developed SORPLAS™ recycled plastics with a recycle rate of up to 85% in the rear covers, the largest TV part by surface area.19 We've optimized our packaging to achieve a 35% reduction of plastic volume, and decreased packaging size by 15% and weight by 10%, increasing the number of units that can be shipped at a time.20 And we've carefully considered the information printed on the packaging to reduce ink usage by 90%.
General features & info:
Wall-mountable (bracket sold separately) VESA mounting hole pattern: 55″ and 65″ 300mm x 300mm
Detachable two-position stand.
Warranty: 1 year parts & labor with in-home service.  Option to add an additional 3 years of warranty coverage.
Optionally we offer a VIP calibration service that includes a full Q/C, we check for stuck pixels, abnormal banding, tinting, screen uniformity and any defect in the TV. Then we do a proper break-in that takes 10 days, and then  our calibrator, D-Nice takes care of the top professional calibration.  This full service package costs $650.