Technics Grand Class Hi-Fi Music Server System
Available in brushed stainless steel SU-G700 & SL-G700 or all black finish Black SU-G700-K & SL-G700-K
Description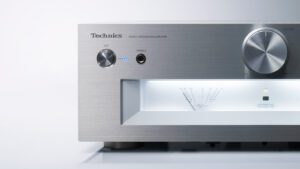 Technics Grand Class Integrated Stereo Amplifier, available in silver, SU-G700 or black, SU-G700-K
Reference-class High-quality Audio Technology
Inheriting the reference-class audio technology concept, the JENO Engine transmits and processes audio signals in full digital and with minimal jitter from the input stage to the power stage. Speaker load adaptive phase calibration (LAPC) ensures ideal gain and phase characteristics for any type of speaker. The newly developed low-distortion switching power supply delivers accurate power supply by suppressing switching frequency fluctuations caused by load shifting.
Stereo Integrated Amplifier SU-G700 Specifications:



Sample
Accurate Digital Technology
JENO Engine, Jitter Elimination & Noise-shaping Optimization
LAPC (Load Adaptive Phase Calibration)
High-speed Silent Hybrid Power Supply
Battery Driven Clock Generator
High-rigidity Metal Double Chassis
Noiseless Signal Technology
Digital Noise Isolation Architecture
Optimally Activated Circuit System
Technics Definitive Design
High-rigidity Cabinet
Three-section Configuration
FTC Output Power
70 W + 70 W (1 kHz, T.H.D. 0.5 %, 8 Ω, 20 kHz LPF)
140 W + 140 W (1 kHz, T.H.D. 0.5 %, 4 Ω, 20 kHz LPF)
Input Sensitivity / Input Impedance
LINE 200 mV / 22 kΩ, Phono (MM) 2.5 mV / 47 kΩ
Frequency Response
LINE 5 Hz - 80 kHz (-3 dB, 8 Ω),
Phono (MM) 20 Hz - 20 kHz, RIAA DEVIATION ±1 dB, 8 Ω
DIGITAL 5 Hz - 90 kHz (-3 dB, 8 Ω)
Load Impedance
4 - 16 Ω
Analogue Input Terminal
LINE x 2 (LINE1 IN, LINE2 IN / MAIN IN), Phono (MM) x 1
Digital Input Terminal
Coaxial Digital x 2, Optical Digital x 2, USB-B (PC)
Analogue Output Terminal
PRE OUT x 1 LINE OUT x 1 (Analog Source Only)
Headphone Output
Yes
USB-DAC (USB-B)
USB Audio Class 2.0, Asynchronous Mode
Support Codec
DSD Yes (2.8224 MHz, 5.6448 MHz, 11.2896 MHz)
PCM Yes (32, 44.1, 48, 88.2, 96, 176.4, 192, 352.8, 384 kHz /16, 24, 32 bit)
Power Supply
AC120 V, 60 Hz
Power Consumption
85 W
Dimensions (W x H x D)
16 15/16 x 5 13/16 x 16 27/32 in.
Weight
Approx. 27.2 lbs
Accessories
Remote Control, AC Cord, Owner's Manual
Network / Super Audio CD Player SL-G700 Specifications:



Sample
Grand Class high quality sound
Premium High-grade D/A Converter AK4497, and Dual Mono Construction D/A Circuit, Variable Analog Audio Out
Discrete AMP Module
Battery Driven Clock Generator
High-speed Silent Hybrid Power Supply
Digital Noise Isolation Architecture
Supports Higher Grade Headphone Connection with Integrated Class AA Headphone AMP
Pure Disc Playback Mode for SACD/CD Playback for Greater Sound Purity
High-Res Re-master
High-quality Technics Design
Four-Section Configuration
High-Rigidity Chassis and Aluminium Die-cast Disc Tray – High-Stability SACD Mechanism
7mm Thick Aluminium Plate Used for the Front Panel
Control Port for System Control with SU-G700
Disc Compatibility
Super Audio CD (2 ch area only), CD, CD-R, CD-RW
Disc Format
Super Audio CD, CD-DA
Frequency Response
Super Audio CD: 2 Hz to 50 kHz (-3 dB) / CD: 2Hz to 20 kHz (-3 dB)
Dynamic Range (IHF-A)
Super Audio CD: BALANCED: 118dB (IHF-A) / UNBALANCED: 115dB (IHF-A)CD: BALANCED: 98dB (IHF-A) / UNBALANCED: 98dB (IHF-A)
Signal to Noise Ratio (IHF-A)
BALANCED: 121 dB (IHF-A) / UNBALANCED: 118 dB (IHF-A)
THD+N
Super Audio CD: 0.0006% (1 kHz, 0 dB) / CD: 0.0015% (1 kHz, 0 dB)
Digital Input Termina
Coaxial Digital x 1, Optical Digital x 1, USB-A x 2
Analogue Output Terminal
Balanced x 1 Unbalanced x 1 Support Variable Level Out
Digital output Terminal
Coaxial Digital x 1, Optical Digital x 1
System Port
System Control Input / Output (Φ3.5 mm Jack)
Headphone Output
Yes (Φ6.3 mm, 110 mV, 32 Ω VOL MAX))
USB-A Support Codec
WAV Yes (32, 44.1, 48, 88.2, 96, 176.4, 192, 352.8, 384 kHz /16, 24, 32 bit)
FLAC Yes (32, 44.1, 48, 88.2, 96, 176.4, 192, 352.8, 384 kHz /16, 24 bit)
DSD Yes (2.8 MHz, 5.6 MHz, 11.2MHz)
AIFF Yes (32, 44.1, 48, 88.2, 96, 176.4, 192, 352.8, 384 kHz /16, 24, 32 bit)
ALAC Yes (32, 44.1, 48, 88.2, 96, 176.4, 192, 352.8, 384 kHz /16, 24 bit)
AAC Yes (32, 44.1, 48, 88.2, 96 kHz /16-320 kbps)
MP3 Yes (32, 44.1, 48 kHz /16-320 kbps)
Network Playback Support Codec
WAV Yes (32, 44.1, 48, 88.2, 96, 176.4, 192, 352.8, 384 kHz /16, 24, 32 bit)
FLAC Yes (32, 44.1, 48, 88.2, 96, 176.4, 192, 352.8, 384 kHz /16, 24 bit)
DSD Yes (2.8 MHz, 5.6 MHz, 11.2 MHz)
AIFF Yes (32, 44.1, 48, 88.2, 96, 176.4, 192, 352.8, 384 kHz /16, 24, 32 bit)
ALAC Yes (32, 44.1, 48, 88.2, 96, 176.4, 192, 352.8, 384 kHz /16, 24 bit)
AAC Yes (32, 44.1, 48, 88.2, 96 kHz /16-320 kbps)
MP3 Yes (32, 44.1, 48 kHz / 16-320 kbps)
Ethernet Interface
LAN (100 Base-TX / 10 Base-T)
Wi-Fi
IEEE 802.11 a/b/g/n/ac, 2.4 GHz / 5 GHz Band
Bluetooth(Support codec)
Yes (AAC, SBC)
Power Supply
AC 120 V, 60 Hz
Power Consumption
38W
Dimensions (W x H x D)
430 x 98 x 407 mm (16-15/16 x 3-7/8 x 16-1/32 inch)
Weight
Approx. 12.2 kg (Approx. 26.9 lbs.)
Accessories
Remote Control, AC Cord, System Connection Cable, Analogue Audio cable, Owner's Manual



Value Electronics
Authorized Dealer


SU-G700-K Black $2,499
Buy Now
Also available in Silver


SL-G700-K Black $2,999
Buy Now
Also available in Silver
Technics Grand Class Direct Drive Turntable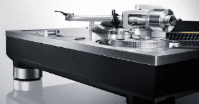 SL-1200G
$3,999 Delivered