Sony A90J Master Series OLED TV Available in 55", 65" and 83"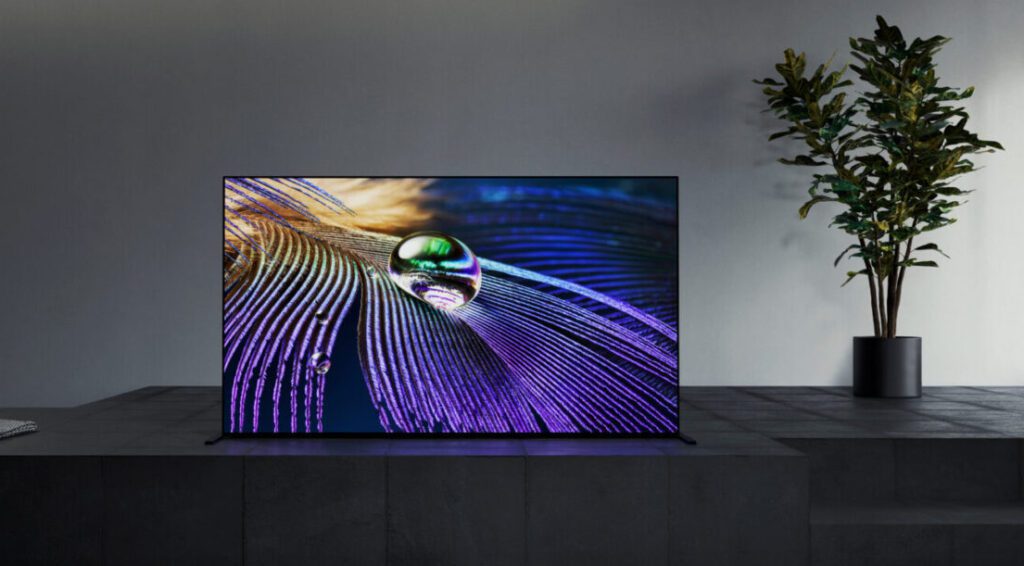 55", 65" and 83" A90J Shipping Now!  
All of our products & prices include delivery to your home.  We offer 2 yrs interest free financing & accept all credit cards. 
Call us 914-723-3344 or email to get on our priority wait list for Sony's A90J Master Series OLED TV.

Sony's new XR processor delivers a real to life picture:
The A90J's Cognitive Processor XR takes conventional Artificial Intelligence a step further by emulating the way our brains think and respond when we see and hear things. This creates a beautiful, true-to-life picture paired with immersive, accurate sound.
Remarkably realistic picture:
All OLED TVs have self-illuminating pixels that can turn completely off to deliver absolute black. What's new and special about the A90J series features Sony's re-engineered panel with a custom heatsink and temperature control that makes it the brightest OLED TV that Sony has ever made. And with the power of the new processor behind it, you get intelligently controlled contrast for realistic depth and sharply defined details, even in areas of shadow or glare.
The XR processor also cross-analyzes individual picture elements and quickly identifies the human focal point, so that it can immediately enhance each detail of that area. Instead of applying generic changes to the entire frame, it recognizes how individual parts of the whole interact with each other and makes precise adjustments create a more natural picture.
Better sound this year:
The A90J's XR processor contributes to a richer sound experience, too. Its 3D Surround Upscaling technology can create a heightened Atmos-like soundfield no matter what the source.
When combined with the TV's Acoustic Surface Audio+ technology, sound effects and dialogue track the on-screen action, creating a more immersive experience. Instead of the tiny, and often down-firing speakers that most TVs have, the A90J uses actuators on the back to send vibrations through the screen to produce sound from the surface of the screen.
The TV can become the center channel in a receiver-and-speakers setup.
New this year is the built-in Google TV smart app platform which consolidates a wide range of streaming services into a single user interface. Watch an episode of Killing Eve on Hulu followed by The Expanse on Amazon Prime all from one watchlist.
Built-in Google Assistant voice control to pull up a show or movie. You can also adjust the volume, change channels or inputs, and control other basic TV functions using your voice.
A perfect display for your new gaming console:
The A90J will support enhanced Audio Return Channel (eARC) and 4K at 120Hz right out of the box.  Variable Refresh Rate (VRR) and Auto Low Latency Mode (ALLM),  requires firmware update.
Picture:
4K screen resolution (3840 x 2160 pixels).
High Dynamic Tonal Range, w/wide color gamet (Dolby Vision, HDR10, HLG)
Self-illuminating OLED (Organic Light Emitting Diode) display panel produces infinite picture contrast and absolute black.
Cognitive Processor XR uses powerful real-time processing based on a human perspective for a true-to-life picture.
XR OLED Contrast PRO increases brightness and enhances color contrast in high-luminance scenes.
Object-based XR Super Resolution identifies up to hundreds of on-screen objects and enhances their resolution individually for exceptional picture accuracy and detail.  Object-based XR HDR remaster alsoo improves color and contrast for SDR content.
XR 4K Upscaling intelligently recreates lost textures and detail in lower-res content.
IMAX Enhanced certification for improved performance with IMAX Enhanced 4K/HDR content.
Triluminos Pro display technology for a wider, more natural color palette.
120Hz refresh rate with XR Motion Clarity™ for sharp, smooth motion even during fast action.
The Living Decor feature lets you display artwork, photos, and screensavers when the TV is not in use.
Video source compatibility:
4K video sources like Netflix, Amazon Prime Video, and YouTube.
NextGen TV ATSC 3.0 tuner can receive over-the-air 4K broadcasts OTA antenna required.
Clear QAM tuner decodes unencrypted digital cable signals up to 1080i without a set-top box.
Smart TV features:
Google TV interface for browsing live TV, movies, and TV shows from across streaming services from one app.
Chromecast built-in to cast your apps and video content from your phone or laptop.
Google Assistant to control basic TV functions and compatible smart home equipment, search TV's streaming services, and set timers.
The A90J is compatible with other Google Assistant and Amazon Alexa devices.
Dual-band Wi-Fi 5 (802.11ac) provides fast, reliable wireless streaming.
Netflix Calibrated Mode compatible with Apple HomeKit and AirPlay 2 to allow wireless streaming from your iPhone, iPad, or Mac.
Living Decor feature lets you display artwork, photos, and screensavers when TV is not in use.
Includes access to Sony exclusive content on BRAVIA CORE.
Connections:
4 HDMI inputs (two 2.0b, two 2.1)all inputs are HDCP 2.3 compatible for connecting to copy-protected 4K video sources to view 4K and HDR content from connected sources, use a high-bandwidth HDMI cable.
HDMI 3 and HDMI 4 inputs support 4K/120Hz and will support VRR and ALLM after firmware update.
HDMI 3 input supports enhanced Audio Return Channel (eARC).
1 composite video (3.5mm A/V minijack adapter cable required).
RF input for antenna/cable signals.
Toslink optical digital audio output.
3.5mm stereo minijack headphone output can also be connected to a sound bar or other audio system.
Pair of speaker binding post terminals for connecting to an A/V receiver when using the TV's Center Speaker Mode.
Ethernet port for the fastest, most secure internet connection.
3 USB inputs for connecting a thumb drive or hard drive.
Sound:
Acoustic Surface Audio+ makes the entire screen a speaker (2.2-channel system with 60 watts total power)
Center Speaker Mode allows dialogue, and music to come directly from the screen, complementing an existing home theater system.
3D Surround Upscaling uses XR signal processing to upscale even two-channel sources to simulated 5.1.2-channel sound.
Acoustic Auto Calibration optimizes sound for your room.
You can send Dolby Atmos audio to the TV's speakers, or to an A/V receiver via HDMI/eARC, when using the TV's HDMI inputs or built-in streaming apps.
General features & info:
Backlit voice remote with built-in microphone.
Wall-mountable (bracket sold separately) VESA mounting hole pattern: 55" and 65" 300mm x 300mm, 83" 400mm x 400mm.
Detachable two-position dual-footer stand.
Warranty: 1 year parts & labor with in-home service.  Option to add an additional 3 years of warranty coverage.