Optoma UHZ50 4K 3D Laser Projector
Get ready for a whole new cinematic experience in the comfort of your own home. The stylish UHZ50 laser projector delivers vivid 4K UHD resolution for incredibly crisp images with exceptional clarity and vibrancy for movies, TV shows, games, and sports. With the included enhanced gaming mode, gamers can enjoy fast-moving action with a 16.7ms response time in 4K at 60Hz and 4ms in 1080P at 240Hz.
Packed with the latest technology and features, this stylish projector boasts HDR and HLG compatibility, three HDMI 2.0 inputs, seamless voice control, streaming apps and a built-in media player. Laser technology provides long-lasting, exceptional color accuracy with extensive DCI-P3 coverage – perfect for recreating the big-screen experience at home.
Description
Optoma's UHZ50 displays true 3D content from various 3D sources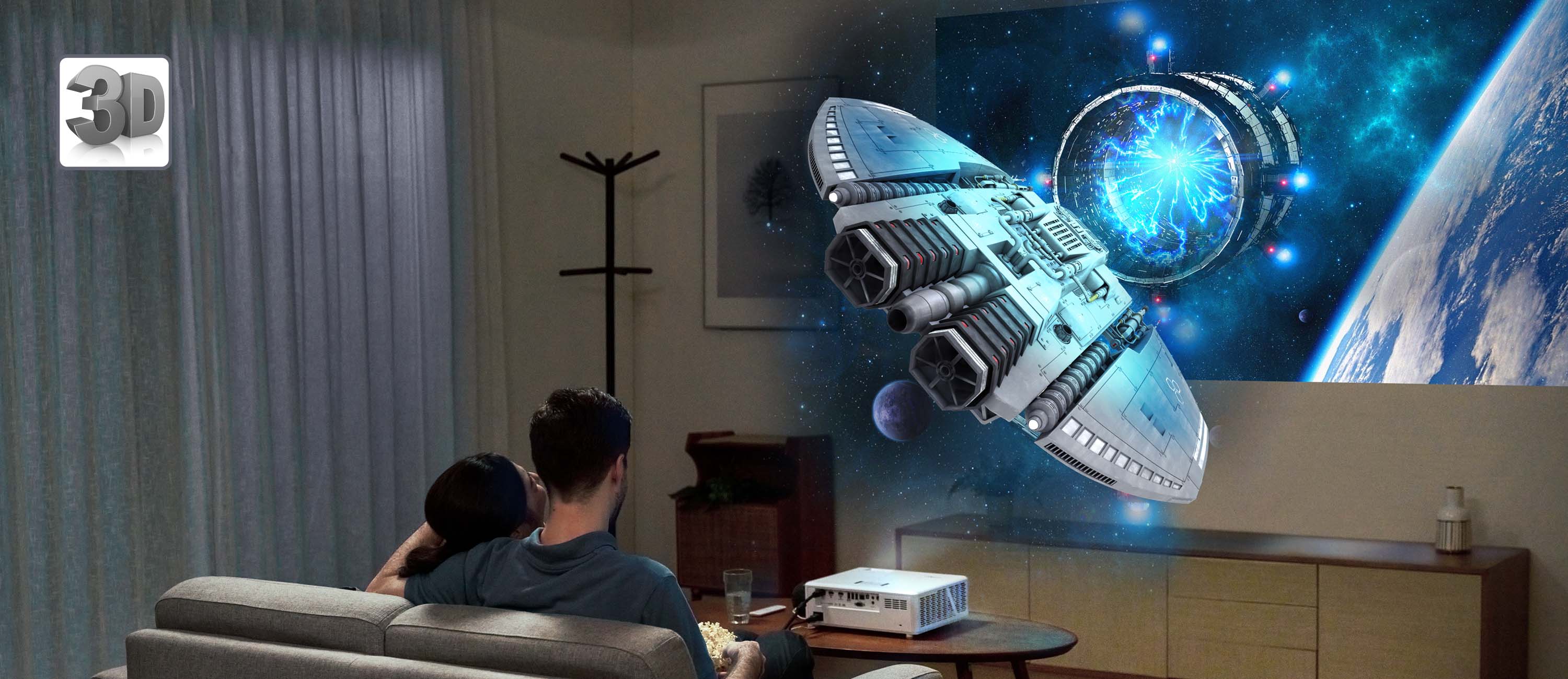 Three HDMI inputs
Play games, stream videos and share photos on the big screen in the comfort of your own home. With the 3 HDMI inputs, you can easily connect to your games console, set-top box, laptop, PC, Blu-ray player or a media streaming device.
Enhanced gaming mode
Enhanced gaming mode optimizes your projector for maximum contrast and vivid colors to capture every detail. It also reduces input lag for lightning-fast response times.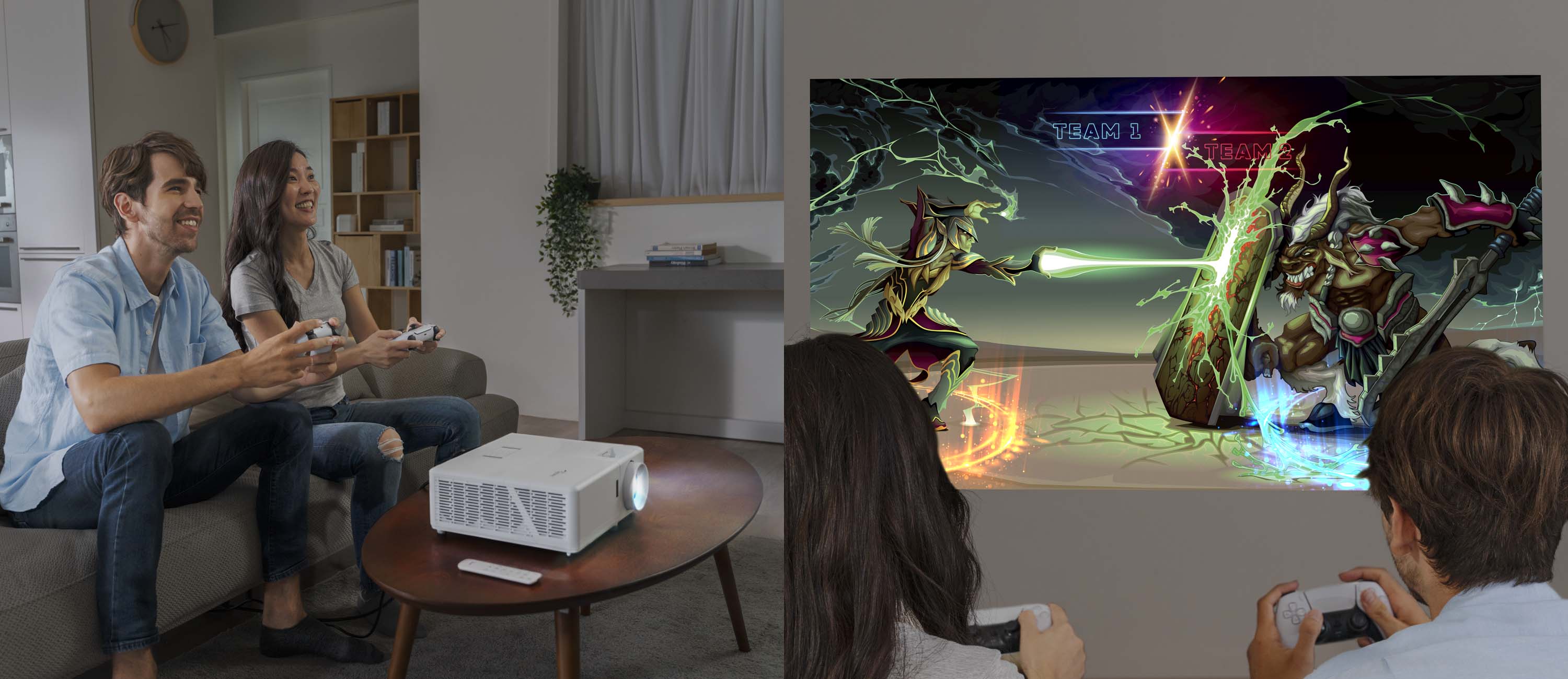 240Hz smooth motion. Enjoy ultra-smooth fluid motion and reduced ghosting. A high refresh rate makes it easier to keep track of the action, giving you a better chance of hitting your target earlier. Ideal for fast action gaming.
*1080p240Hz PC gaming
Get right inside the action with the most immersive experience possible w/a huge screen up to 300″ Split-screen multiplayer games are more enjoyable to play on the big screen.
24p Most movies are shot at 24 frames per second (fps). To preserve the purity of the original image, Optoma projectors can accept high definition sources at 24 fps to display movies exactly as the director intended.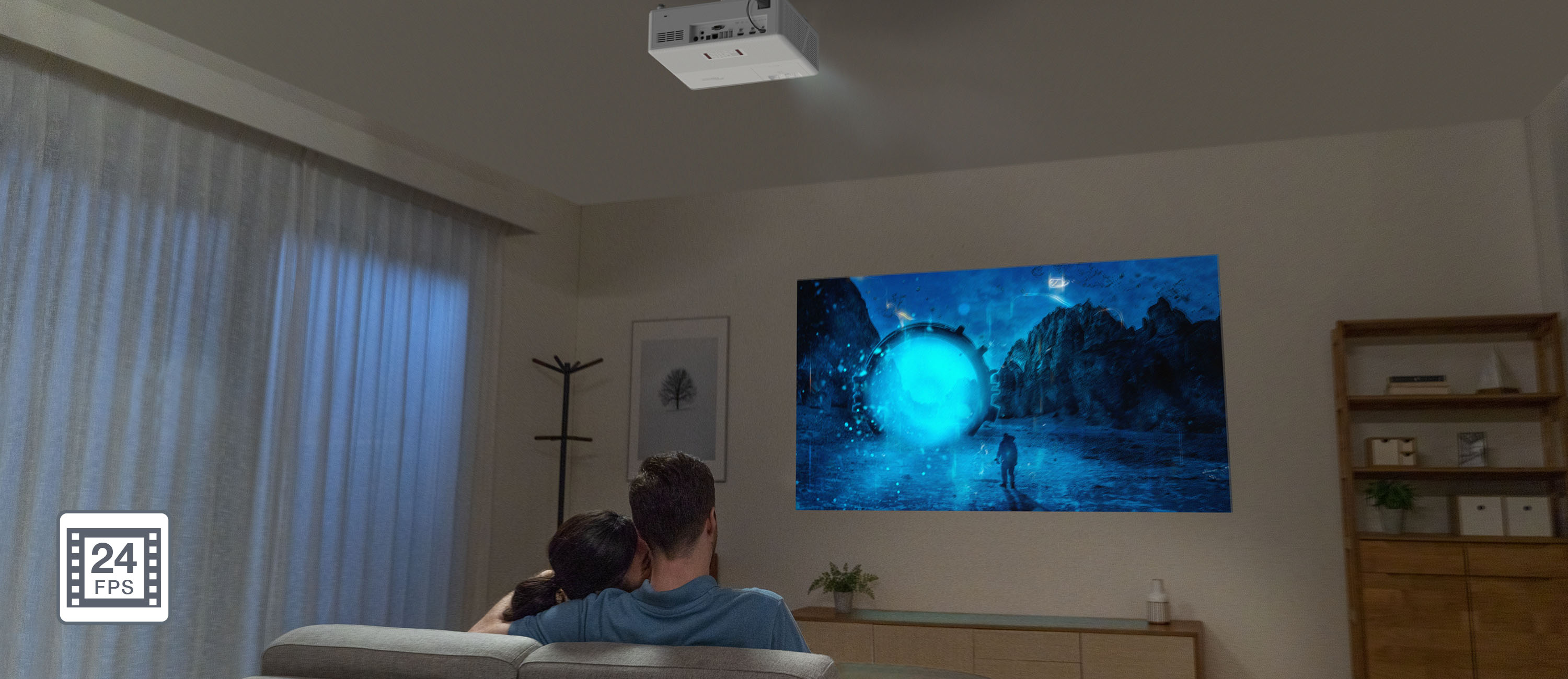 Integrated speaker Complete your home entertainment experience with the convenience of a powerful built-in speaker for exceptional sound quality and an easy set up without the need for costly external speakers.
USB-Power. Use the USB-A port to power an HDMI dongle, such as Google Chromecast.
Laser technology:
Optoma laser projectors use high-quality lasers to create the projected image. In many situations the perceived brightness from laser illumination projectors can be twice that of an equivalent lamp-based model. They also deliver increased efficiency to maintain consistent brightness, superior color performance, instant on/off and an extraordinary life span up to 30,000 hours.
Color Management System (CMS):
Display accurate lifelike colors to best match your viewing environment. This unique feature provides you with the flexibility to fine-tune the color settings for optimal precision.
ISF modes:
This feature allows you to save your calibrated day and night mode settings for the highest possible viewing experience.
---
Optoma UHZ50 back side shows all of the inputs and outputs
Display technology: DLP™
Resolution: UHD (3840×2160)
Brightness: 3,800 lumens
Contrast ratio: 2,500,000:1
Native aspect ratio: 16:9
Keystone correction – horizontal: +/-30°
Keystone correction – vertical: +/-30°
Has vertical auto keystone correction: Yes
Displayable colors (millions): 1073.4
Horizontal scan rate: 15.375 ~ 91.146 Khz
Vertical scan rate: 50 ~ 120HzHz
Screen size: 33″ ~ 300″ diagonal
Light source type: Laser
LASER life: 30,000 hours
Optical: 
Throw ratio: 
1.21:1 ~ 1.59:1
Projection distance: 
47.24″ – 318.9″
Focal length (mm): 
12.81mm~16.74mm
Lens shift: 
Vertical +10%
Throw ratio: 1.5:1 ~ 1.66:1
Projection distance: 47.24″ – 389.76″
Focal length (mm): 15.84mm~17.44mm
Lens shift: Vertical: +/-0%
Native offset: 105%
Connections: 

Inputs 3 x HDMI 2.0, 1 x USB-A – Outputs 1 x Audio 3.5mm, 1 x S/PDIF – Control 1 x RS232, 1 x 12V trigger, 1 x 3D sync
Noise level (typical): 27dB
PC compatibility: UHD, FHD, UXGA, SXGA, WXGA, HD, XGA, SVGA, VGA, Mac
Security: Security bar, Kensington Lock, Password protected interface
Operating conditions: 0°C~40°C/41°F~104°F, max altitude 3000M/9843ft, max humidity 80%
Remote control: Backlit home remote
Heat dissipation: 785BTU/hour
Optional wireless models: UHDCast Pro, QuickCast Bundle, QuickCast starter kit
Power supply: 100V ~ 240V, 50-60Hz
Power consumption (standby): <0.5W
Power consumption (min): 175W
Power consumption (max): 230W
Weight and dimensions:
Dimensions (W x D x H): 
13.27″ x 10.43″ x 4.7″
Geometric correction: Adjust individual points to get the image perfectly square using the advanced built-in geometric correction tool. Ideal if you are not using a screen and have an uneven wall you want to project onto.