Sony 77″, 65″ & 55″ A95L Master QD OLED
End of Sept launch, $1 deposit reserves your A95L!

Free delivery from 6 warehouses
77A95L

*

$4,999 – 65A95L

*

$3,499 – 55A95L

*

$2,799,  .pdf Spec. Sheets: XR77A95L  XR65A95L  XR55A95L. *We Gift Our Clients With A 5% Store Credit To Go Towards Any Sony Equipment!
Email

or call us 914-723-3344 w

/questions or comments.
Description
Here's more ValueElectronics A95L exclusive bundle promotions & use the 5% store credit from the A95L purchase to lower your cost even further:
Sony HT-A9,  $1999,  Sale $1499,  Extra Bundle Promo $100 =

$1,399
Sony HT-A7000ES $1399, Sale $999, Extra Bundle Promo $100 =

$899
Sony HT-A5000ES $999, Sale $799, Extra Bundle Promo $100 =

$699
Sony HT-S2000.UC2 $499, Sale $299, Extra Bundle Promo $50 =

$249
---
Or select one of Sony's new A/V Receivers & take an additional discount:
STR-AZ1000ES 7.2 Channel AVR $1,099,  Extra Bundle Promo Price  $998
 

STR-AZ3000ES

9.2 Channel AVR $1,699,  Extra Bundle Promo Price $1,529
STR-AZ5000ES 11.2 Channel AVR $2,099, Extra Bundle Promo Price $1,889
 STR-AZ7000ES 13.2 Channel AVR $3,299, Extra Bundle Promo Price $2,969
---
Select your additional Sony accessories when you place your Sony TV order & we'll ship them with your A95L Master Series TV.
All Products & Prices Include Nationwide Delivery.  We Offer 1 Year Interest Free Financing or Any M

ajor

Credit Card.  

Email

or call us 914-723-3344 with questions or comments.
---
Sony's new 2023 Flagship A95L Master Series QD OLED TV is beautifully designed to complement your space w/minimalist One Slate design keeps you focused on the big picture.
The versatile 3-way multi-position stand gives you the option of a low-profile setting that focuses your attention on the picture, a narrow setting for smaller furniture, or a raised setting that accommodates your soundbar in the ideal position.
Integrated cable management keeps wires neatly hidden so your furniture stays free of clutter.

65″ & 55″ A95L has the 2-position Pedestal Stand Positions, the raised Sound Bar position & the wide position where the TV touches the cabinet top.
__________________________________________________________________________
Here's a few Sony A95L Master Series QD OLED TV Upgrades
Three screen sizes, 77″, 65″ & 55″

New adjustable Stand

Gen 2 QD OLED with Higher Peak Luminance capability than the A95K

Gen 2 QD OLED modules engineered and built for 50% longer life

New 2023 Game Menu

Picture in Picture, PIP is back and exclusively for Sony's new A95L!  So you can watch two different video feeds at the same time by splitting the screen in the A95L's MultiView mode.

For 2023 A95L series Sony updated the Cognitive Processor XR processor, which now features the all new XR Clear Image which improves noise reduction and clarity with motion, reducing blur.

Every 2023 XR series offers Acoustic Center Sync, which synchronizes the TV's audio system with the center channel of a compatible Sony soundbar turning it into the center speaker for the ultimate, immersive at-home experience.
---
Here's Brilliant Dolby Atmos Audio Systems Designed By Sony's Engineers For The A95L.  Add Sony's HT-A9 12 Channel or, HT-A7000 7 Channel, or HT-A5000 5 Channel Dolby Atmos Audio System And Use The A95L's Built-In Speakers For The Center Channel Speaker.
______________________________________________________________________________________________________
Want more HDMI 2.1 inputs, Marantz 3×1 switch $199
   
---
Sony's Bravia Cam included free with the A95L & adds the following features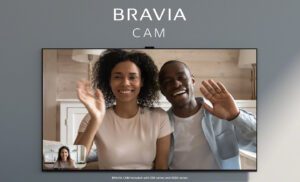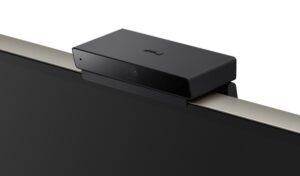 W/Sony's Bravia Cam CMU-BC1 you will enjoy video chat w/friends & family on the big screen
Ambient Optimization Pro recognizes where you're sitting in the room automatically optimizes picture & sound

Experience new ways to control your TV w/Gesture Control. Change channels & adjust volume by using gestures

Compatible with 2022 & 2023 Sony TVs

Easily connect BRAVIA CAM to your TV via USB

The integrated camera switch on top allows you to close the camera cover whenever you want more privacy
_________________________________________________
ATSC 3.0 NextGen TV OTA Tuner is built into Sony's A95L. Add an OTA antenna to enjoy the NextGen of Free TV from your local network & PBS stations in stunning lossless audio/video.

In celebration of NextGen ATSC 3.0 coming to NY we prepared w/Channel Master's PRO 1776 on display & fully demonstrated in our showroom across all of our TVs & all of our Projector Theater Demo Rooms

---
_________________________________________________
BRAVIA Core 2 years unlimited Sony &

Columbia

Pictures movies & you also get 10 credits to redeem on latest releases.

Access the largest available collection of IMAX Enhanced movies.1
Every BRAVIA XR TV with IMAX Enhanced is certified by IMAX & DTS to have met the rigorous standards to ensure the best possible IMAX movie experience from BRAVIA CORE movies. BRAVIA CORE Calibrated mode automatically optimizes picture settings w/IMAX Enhanced movies
_________________________________________________
Experience Pure Stream™, The Highest In Streaming Picture Quality.

2
BRAVIA CORE features Pure Stream™, which can stream HDR movies at up to 80Mbps – similar to 4K UHD Blu-ray.3 – on a wide range of content. This means significantly more detail, color & contrast than conventional 15-25Mbps streaming content.4
Get ready for the VIP treatment that only comes with BRAVIA CORE
BRAVIA CORE is your private studio pass to exclusive behind-the-scenes content and more. Only BRAVIA CORE gets you access to some of today's top productions and film makers.
BRAVIA Core Delivers Room-filling Immersive Sound
Experience your favorite movies with immersive sound from the comfort of your home. BRAVIA CORE supports DTS:X & Dolby Atmos for an amazing surround sound experience. Available in English only.
---
Notes:
Spider-Man: No Way Home: ©2022 CTMG. All Rights Reserved. MARVEL and all character names: © & TM MARVEL.

Ghostbusters: Afterlife © 2021 Columbia Pictures Industries, Inc. and BRON Creative USA, Corp. All Rights Reserved.

Based on research from December 2020.

Based on research from December 2020.
---
Click the 3 images below to see the detailed dimensions of Sony's 77A95L
---
---
Here's Sony's 55″ A95L Cut Sheets with all dimensions
---
General Features:
Wall-mountable (bracket sold separately) VESA mounting hole pattern: 300 x 300.
Detachable 2 position pedestal stand included.
Warranty 1 year in-home service, option to add additional 3 yrs of warranty coverage.
---
More features and specifications:
Intelligent and powerful TV processing

See how real your entertainment can be, with immersive depth and lifelike picture quality, powered by Sony's intelligent Cognitive Processor XR. Hundreds of thousands of individual on-screen elements are processed and remastered in the blink of an eye, boosting color, contrast, and clarity, bringing astounding realism to your content.

Our best color ever

Experience our widest palette of colors with breakthrough QD-OLED panel technology. Enhanced by XR Triluminos Max, millions of self-illuminating individual pixels deliver more saturation and brightness to every color, revealing all the exquisite detail and subtle hues of real life.

Feel immersive realism with pure black and our brightest colors

Drastically transform the look and feel of your favorite content with enhanced QD-OLED contrast and color. By pairing our QD-OLED panel and XR OLED Contrast Pro, see up to 200% color brightness compared to conventional OLED TVs, bringing scenes to life with pure black and our brightest colors.

The entertainment you love. With help from Google

With 700,000+ movies and TV episodes, live TV, and more available across 10,000+ apps, Google TV takes streaming and live TV to the next level – bringing together your favorite entertainment from across your apps and organizing it all, just for you. Searching is easy – just ask Google. Try saying, "Hey Google, find action movies" to search across your favorite apps.

Movies on us with BRAVIA CORE™

With the BRAVIA CORE app, enjoy the latest Sony Pictures Entertainment titles and the largest IMAX Enhanced collection. Simply redeem the included credits to choose from hundreds of the latest releases. You're also subscribed to an amazing selection of movies to stream anytime. With Pure Stream™ get near lossless 4K UHD Blu-ray quality for stunning visuals & expressive sound.

_________________________________________________

Game Menu, all your game settings in one place, quickly manage the picture settings & exclusive assist features in a convenient interface
Get access to features like Black Equalizer to reveal details in even the darkest shadows, apply a Crosshair overlay so you always have your enemy in your sights, and use the Screen Size feature to shrink your screen all the way down to a 27" monitor size for precision gaming on your big screen. And exclusively on the A95, use Multi View to split your screen & enjoy watching content from 2 different sources at the same time.
Level up your gaming with HDMI 2.1 features

Sony TVs deliver a thrilling gaming experience with support for 4K/120, VRR, and ALLM as specified in HDMI 2.1. With 4K/120 you get up to 120fps in 4K resolution on compatible games, and input lag as low as 8.5ms, giving you the advantage in high-intensity gaming. Variable Refresh Rate (VRR) allows the TV to dynamically match frame rate of the gaming device, enabling smoother gameplay without stuttering delays or screen tearing. Lastly, Auto Low Latency Mode (ALLM) supports more responsive gameplay by enabling the TV to automatically switch to low latency mode whenever a gaming device is connected.

Perfect for PlayStation® 5

Get detailed, responsive game play and feel the action all around you with Sony TV exclusive feature for the PlayStation®5 console. Auto HDR Tone Mapping automatically adjusts the HDR settings of the PS5® console to the TV for detailed, high-contrast scenes, and Auto Genre Picture Mode automatically adjusts the picture quality during gaming or streaming.

Cinematic content as the creators intended

Get extraordinary picture quality and enjoy your favorite content the way it was designed to be seen. Dolby Vision®makes scenes come to life with striking highlights, deeper blacks, and vibrant colors. IMAX® Enhanced delivers digitally remastered movies with full-screen picture and more powerful sound. Netflix Adaptive Calibrated Mode uses the TV's ambient light sensor to optimize picture brightness based on your room's lighting conditions, so you can enjoy Netflix original content with studio picture quality. And BRAVIA CORE Calibrated Mode automatically adjusts to the optimal picture settings, creating an exceptional at-home movie viewing experience.

The screen is the speaker with sound and picture in perfect harmony

Hear an exceptional audio experience with more realistic sound and clear dialogue. With Acoustic Surface Audio+, actuators behind the TV vibrate to produce sound from the entire screen and elevate the soundstage, enabling sound to follow the action on screen. An integrated subwoofer delivers powerful bass and rounds out the sound for a truly immersive cinematic feel. And with Dolby Atmos support and 3D Surround Upscaling, everything you watch gets the true surround sound treatment.

Pairs perfectly with Sony soundbars

Paired with select Sony soundbars, our latest TVs go even further to bring you an unmatched audio-visual experience. Acoustic Center Sync synchronizes the TVs speakers with the soundbar, reinforcing the center speaker channel for clearer, fuller vocals. When connected, soundbar settings automatically appear on the TV's Quick Settings menu, making it easy to control the volume, sound field, voice amplification, and other soundbar features.

Bring back lost texture and detail, the intelligent way

Bring back lost texture and detail, with reduced noise and blur, and see all your HD and digital content upscaled to near-4K resolution with XR Clear Image and XR 4K Upscaling. See the authentic features of people's faces, identify every blade of grass, and marvel at the precise texture of buildings and scenery.

Intelligent motion processing for fast-moving, blur-free scenes

Watching sports and action-packed movies just got a whole lot better. XR OLED Motion combats blur and judder by cross-analyzing key visual elements and precisely controlling the action in every scene to ensure picture quality remains smooth and clear.

Hands-free help from Google

With hands free voice control built into Sony TVs with Google TVs, you can set aside your remote and simply use your voice to search and access entertainment, get answers, control the TV and smart home devices, and streamline your day. Just say "Hey Google" to get started.

All your favorite streaming apps in one place

Sony TVs with Google TV give you access to all your favorite streaming apps in one place, including Netflix, Prime Video, Disney+, YouTube, the Apple TV app, HBO Max, Peacock, and many more. Find all the movies and TV shows you love in an easy-to-navigate interface and use Google Assistant to quickly find new content to watch.

Family-friendly smart TV

Discover a fun collection of movies and shows for the whole family. Create a Kids Profile that can help you guide children to age-appropriate content on streaming apps. Pick from a selection of playful avatars and themes, set parental controls to restrict what streaming services are shown, limit watching time, and even set bedtimes.

Works with Apple AirPlay

With Apple AirPlay support, you can share pictures, video, or audio to your television right from your iPhone, iPad, or Mac. Watch movies and shows from your favorite apps, the Apple TV app, or even from Safari.

__________________________________________________

Discover new ways to enjoy TV with BRAVIA CAM

Connect the supplied BRAVIA CAM for an even more dynamic viewing experience.  Ambient Optimization Pro recognizes where you're sitting in the room and automatically optimizes the picture and sound for the environment. You can also enjoy video chat with friends and family on the big screen.

__________________________________________________
Premium Backlit Remote Control
The A95L's new compact, premium remote with backlit keys ensures you have access to the most used buttons while being comfortable to hold. Easily find your lost remote with the finder function – simply ask your TV "Hey Google, find my remote", or press the button on the side of the TV, and the remote will ping. It even has a special polyurethane coating making it easy to wipe down and keep clean.
All your energy-saving settings in one place
With the flexible and configurable Eco Dashboard, energy saving settings can now be centrally managed. You can easily customize energy saving settings for your TV usage, viewing environment & the content you are watching, all in one place.
__________________________________________________
---
Optionally we offer a VIP calibration service that includes a full Q/C, we check for stuck pixels, abnormal banding, tinting, screen uniformity and any defect in the TV. Then we do a proper break-in; then our calibrator, D-Nice takes care of the top professional calibration.  This full service package costs $650.
All products & prices include delivery. We offer 1 yr interest free financing or credit card. email or call 914-723-3344
---


Additional information
| | |
| --- | --- |
| A95L | 77A95L, 65A95L, 55A95L |