Description
NAD's C 3050 Integrated Stereo Amplifier $1,299.
Beautiful Throwback to Legacy Premium Stereo Amplifiers, Modernized With Premium Components & Easy to Use Smart App User Interface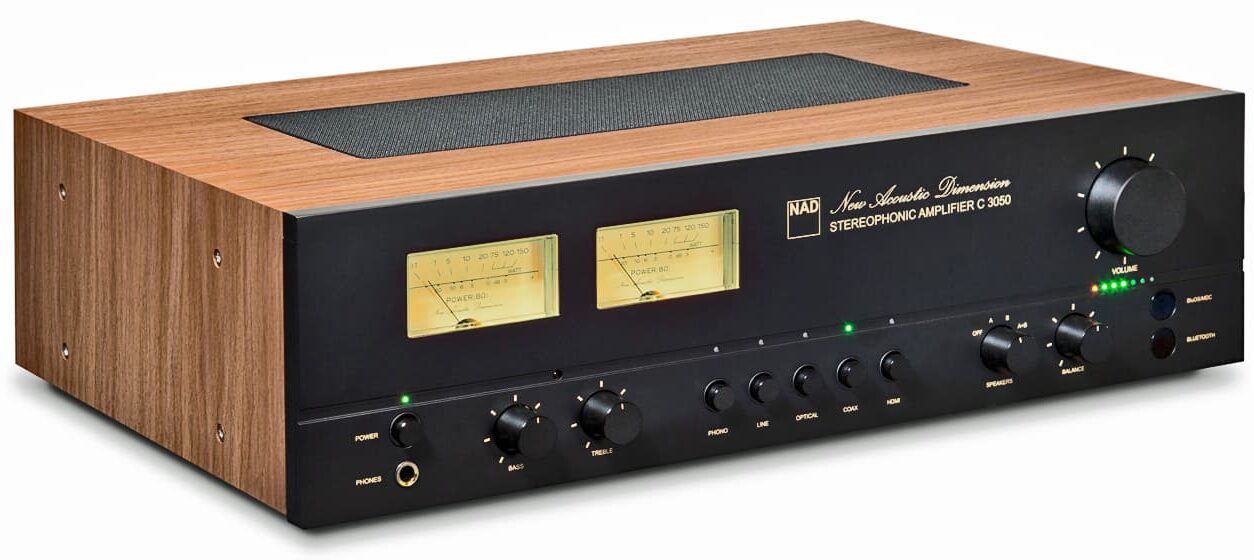 Featuring dual-band Wi-Fi & Gigabit Ethernet the BluOS platform brings integrated support w/more than 20 streaming services including several that offer lossless hi-res audio, Amazon Music Ultra HD, Deezer, Qobuz, and Tidal.  BluOS supports high-resolution audio up to 24-bit/192kHz, with MQA decoding & rendering capability. The MDC2 BluOS-D module also allows for playback from a personal library & thousands of internet radio stations. The MDC2 BluOS-D module upgrades the C 3050 to be a whole-home music system with up to 64 audio zones.
---
Dirac Room Correction:
NAD MDC2 BluOS Module
The optional (requires extra purchase) MDC2 BluOS-D module lets C 3050 perform room correction to optimize speaker performance. Using a series of test tones played out to the speakers, Dirac software analyses the results & creates correction filters to counteract common acoustic problems like standing waves & unwanted reflections.
---
Plug and Play:
C 3050 features several input options, including analog & digital inputs as well as ultra-low-noise MM phono input for turntable connection. NAD's C 3050 is HDMI eARC capable.
The C 3050 includes A/B Speaker connections & switching. The C 3050's dedicated headphone amp & pre-out/main-in jacks to connect to a more powerful amplifier or the option to be used for preamp only.
---
The C 3050 included "SR10" IR remote has installer-friendly features, 12V trigger and IR input.
Select AMP from "DEVICE SELECTOR" button to initiate the C 3050 remote control commands
1, ON/OFF: The remote has separate On & Off buttons. Press ON to switch C 3050 from Standby to On.
2, DEVICE SELECTOR: A Device Selector button determines what component the SR 10 will command. Press desired Device Selector button for the applicable buttons to be directed to a page of commands for the selected device. Press the SR 10 control buttons applicable for the selected Device.
3, MUTE: Press MUTE button to temporarily switch Off sound to the speakers & headphones. MUTE mode is indicated by the amber LED illuminated button among the Volume Level LED indicators. Press MUTE again to restore sound. Adjusting the volume via the SR 10 or the front panel will automatically release the mute function.
4, VOL [D/F]: Press D/F button to increase or decrease the volume. The Volume Level LED indicators will illuminate as the volume level increases & decreases.
5, SOURCE [D/F]: Toggle through source input ports.
6, EQ: W/optional MDC2 BluOS D installed & Dirac Live calibration use EQ to select available saved Dirac settings
7, NUMERIC BUTTONS: W/MDC2 BluOS D installed direct selection of Source input, press corresponding number to directly select Source. 1 Phono 2 Line 3 Optical 4 Coax 5 HDMI 6 BluOS.
8, Reduce, turn off or restore display brightness of Source Input & Volume Level LED indicators. 6 levels of LED brightness when toggling the DIM button. 0 is off, 5 is the brightest. 9 w/optional MDC2 BluOS D installed & while at BluOS Source select u: Play or Pause.
9, Skip back to current song beginning or skip forward.
---
Control: Various options for music control are made possible with the BluOS Controller app for Android, iOS, macOS & Windows
The MDC2 BluOS-D supports Spotify Connect & Tidal Connect so users can cue up music in the apps then transfer playback to the C 3050.
Support for Apple AirPlay 2 allows streaming to the MDC2 BluOS-D from any app on an iPhone, iPad, or Mac computer.
Playback by voice is possible using Amazon Alexa, Google Assistant, or Apple Siri.
Advanced bidirectional aptX HD Bluetooth allows users to stream directly to the MDC2 BluOS-D from a smart device or stream audio from the C 3050 to a pair of wireless headphones.
---
Quote from Frin Cas Oostvogel, Product Manager, NAD Electronics:
"The C 3050 may look like a throwback to the '70s & deliberately so… Yet at the same time, it eclipses many of today's amplifiers in upgradability, performance & forward-looking features"
---
Feature/Detail Summary:
To review, here are the major product highlights for NAD C3050
Cabinet: Walnut-finished vinyl-clad cabinet, with dark grey front panel, front-panel VU meters, push-button input controls, and 1970s cursive branding.
Continuous Power Output: 100 Watts per channel into 8/4 ohms.
Expansion Module: This allows the addition of BluOS high-resolution multi-room music streaming and Dirac Live room correction. The module is an additional purchase.
DAC: High-performance TI PCM5242 differential DAC.
Phono Input: Ultra-low noise MM phono stage with infrasonic filtering circuitry.
Digital Audio Inputs: One optical, one coaxial digital input.
Analog Audio Inputs: One set of line-level analog inputs with low-noise buffer amplifiers.
Audio Outputs: Analog Pre-amp out/Main-in connections.
HDMI: HDMI-eARC input included.
Speaker Connections: A/B speaker terminals.
Subwoofer Output: Allows connection of an externally powered subwoofer.
Headphone Output: Dedicated headphone amplifier with front-mounted ¼-inch front panel headphone connection.
Remote Control: IR remote control included.
CI Control: 12V Trigger out, IR in.