Value Electronics is Headquartered in Scarsdale NY with our Flagship Showroom.
We are E-Commerce Authorized by all TV, Projector and Audio Brands to Sell Nationwide.
Established in 1998, Value Electronics was created by Robert and Wendy Zohn to provide world-class A/V products and services.
Our out of the tri-state area orders are drop shipped from 4 fully stocked warehouses across America to best service our Nationwide clients. We offer a full range of services including, A/V systems design, hard-wired & Wi-Fi networking, custom integration of all a/v & home control all very professional installed. Value Electronics is factory authorized for all products we sell.
In 2004, we created the well-respected TV Shootout® evaluation event to help determine who makes the World's best TV each year. This year's 2022 4K & 8K TV Shootout Evaluation events marks our 18th annual TV Shootout.
We do not sell, share, or save any of our clients personal information. This website was designed, built, and is maintained by www.GoDaddy.com
Value Electronics wins North East Region Member of the year.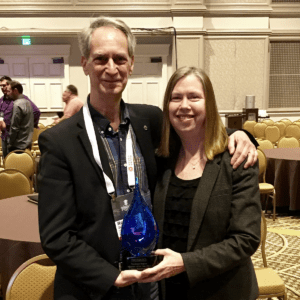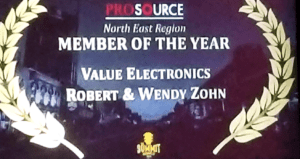 Value Electronics Showroom
Once your order is placed, we process and ship every order as soon as possible, and cancellation may not always be possible. If you need to modify or cancel an order, call or email Value Electronics as soon as possible. 
Once a product is shipped, we consider the order filled. If you no longer want the product, and it has already shipped, please refuse the delivery. If your delivery cannot be refused, please follow the return procedures.
TV, Blu-ray player, and audio receiver returns for refund and replacement policy
Returning a defective TV for advance replacement.
The following policy applies to all TV purchases.  For LG ad Samsung TVs if your product is defective within 60 days from the day you receive the TV.  For Sony TVs, we can replace a defective TV within 14 days from the day you receive the TV.  This liberal policy gives you have the option of repairing the TV or we will swap it with a brand new TV.  The defect may be subject to confirmation by the manufacturer's authorized servicer.  You do not pay any restocking or any shipping costs, we cover all costs.
Exceptions:
1.) For TVs that were ordered with our full q/c, break-in, and professional calibration that develop a defect we can only provide service through the manufacturer's warranty.
2.) Return for refund.  At our discretion, only returns for refund may incur return shipping and a 10% restocking fee and all accessories and packing must be original.
Returning a Product for a Refund
Important Customer Advice: To prevent any potential problems or returns, it's always best NOT to accept delivery if the carton or packaging in which your product arrives is or appears to be damaged.  Another option for shipments that have some physical damage is to open the box and inspect the TV carefully for physical damage before signing the delivery receipt.  Call us at the time of delivery if you have any questions or comments.
How to Return Your Product
If the product is damaged, defective, or not what you ordered
If you receive a product that is damaged or does not work properly because of a defect, or if the product is not what you ordered, please contact us by phone at (914) 723-3344 or by email at rzohn@valueelectronics.com within 30 days of receipt to request a repair, replacement or Return Authorization. For all small packages we'll email you a Return Authorization Number and prepaid Fed Ex Return Label.  Call us if you are have a defective TV for special handling.
Our Customer Service Hours are:
Monday-Friday: 9:30 am - 6pm EST
Saturday: 10:30 am - 5pm EST
Not satisfied with the product you received?
If you are unhappy with your purchase, for any reason other than damage, defect, or wrong shipment, simply contact us within 30 days of product receipt by phone at (914) 723-3344 or by email at rzohn@valueelectronics.com to request a Return Authorization.
Please note: At Value Electronics' discretion, all returns are subject to a 10% restocking fee. We absorb the shipping costs to you, but we do not pay your return shipping cost.
Return Authorizations
Your Return Authorization is valid for 15 days from the day it was sent to you. Your returned merchandise should be in original factory condition and include all packaging materials, inserts and manuals, product warranty cards (not filled-out), and all accessories.
Due to hygiene reasons, open items including but not limited to Headphones, Ear buds, and screen cleaners are not returnable.
As soon as we confirm receipt and inspect the product and accessories, Value Electronics will issue a credit to your credit card account for the price of the merchandise, minus applicable restocking fee and shipping charges.
Please allow up to 1 week for your credit to appear on your account. Returning a product without the proper Return Authorization will delay processing your credit.
Product Return Instructions
To help us process your return as quickly as possible, please have this information handy for your representative when speaking to us directly or when emailing:
Order Number

Date of order

Ship-To name and address

Bill-To name and address (if different from the ship-to address)

Model Number

Reason for returning the product

Whether or not you have the original shipping packaging
Once we have your product information, we will email your Return Authorization Number and Return Label.
When You Receive Your Return Authorization Number
It's most important to use the original shipping carton with all of the packaging that came with the TV along with all of the accessories re-boxed exactly as the packaging was designed to be packaged.   This careful and proper packaging will help ensure safe travel back to its destination.  When needed use adequate additional packing to further protect against shipping damage.  It is advisable to have the TV strapped onto a pallet (Skid) to ensure safe and damage-free delivery back to us.

Include all packaging materials, inserts and manuals, product warranty cards (not filled-out), and all accessories in the carton

Ship your return to the address listed on the return label sent with your Return Authorization Number.

Please DO NOT return items to the address on your original shipping label.

Value Electronics
Authorized Sony Dealer

Value Electronics
Authorized Dealer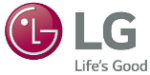 Value Electronics
Authorized Dealer

Value Electronics
Authorized Dealer