Sony 75″ & 85″ Z9K 8K HDR TV
75Z9K & 85Z9K In stock & we deliver nationwide free!
5% store credit for any TV accessories!

Tell us in the comments when checking-out what Sony product(s) we can include w/your Z9K.
Email

 or call us 914-723-3344 w/questions or to ask about other ways to use our exclusive 5% Sony store credit.
Description
Sony's Z9K comes in 2 sizes: XR-75Z9K – XR-85Z9K, both w/BRAVIA Cam included free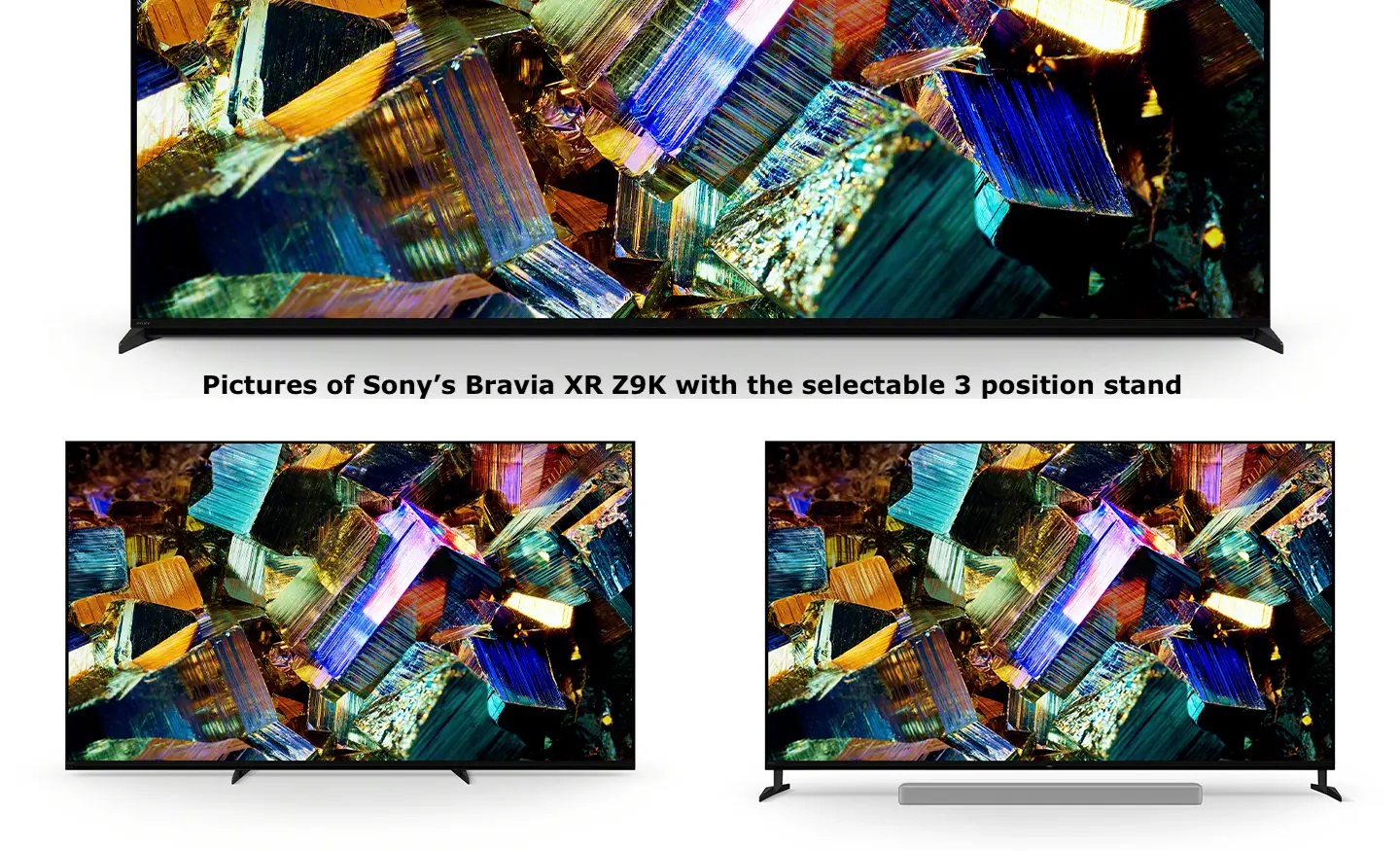 ________________________________________________________________________
Here's 2 brilliant Dolby Atmos audio upgrades that Sony designed to be paired w/Bravia XR TVs. Add Sony's new

HT-A9

12 ch or the HT-A7000 7 ch Dolby Atmos audio & use the Z9K's built-in speakers as the center channel.
Here's ValueElectronics A95L bundle promotions & use our 5% TV accessory store credit from the A95L purchase to lower your cost further
Sony HT-A9,  $1999,  $1,499.99 Extra Bundle Promo $100 =

$1,399
Sony HT-A7000ES $1399,  $999.99 Extra Bundle Promo $100 =

$899
Sony HT-A5000ES $999, $699.99 Extra Bundle Promo $500 =

$649
Sony HT-S2000.UC2 $499, $349.99 Extra Bundle Promo $50 =

$299
---
Or select one of Sony's new A/V Receivers & take an additional discount:
STR-AZ1000ES 7.2 Channel AVR $1,099,  Extra Bundle Promo Price  $999
 STR-AZ3000ES 9.2 Channel AVR $1,699,  Extra Bundle Promo Price $1,599
STR-AZ5000ES 11.2 Channel AVR $2,099, Extra Bundle Promo Price $1,999
 STR-AZ7000ES 13.2 Channel AVR $3,299, Extra Bundle Promo Price $3,099
---
Select your additional TV accessories when you place your Sony TV order & we'll ship them with your A95L Master Series TV.
All Products & Prices Include Nationwide Delivery.  We Offer 1 yr. Interest Free Financing or Any Major Credit Card. email or call 914-723-3344 w/questions or comments
Sony HT-A9

$1999 Sale $1499, Bundle Promo $1399 & use the 5% TV

accessories

 credit to bring your cost even lower
---

Or select one of Sony's new A/V Receivers & take an additional discount:

STR-AZ1000ES 7.2 Channel AVR $1,099,  Extra Bundle Promo Price  $999

 

STR-AZ3000ES

9.2 Channel AVR $1,699,  Extra Bundle Promo Price $1,599

STR-AZ5000ES 11.2 Channel AVR $2,099, Extra Bundle Promo Price $1,999

 STR-AZ7000ES 13.2 Channel AVR $3,299, Extra Bundle Promo Price $3,099
All products & prices include delivery.
________________________________________________________________________
Sony Bravia Cam adds the following features to your Z9K



With Sony's new 2022 Bravia Cam CMU-BC1 you will enjoy video chat with friends and family on the big screen.

Ambient Optimization Pro recognizes where you're sitting in the room and automatically optimizes picture & sound.

New ways to control your TV w/Gesture Control. Change channels & adjust volume simply by using gestures.

Compatible with 2022 Sony TVs – X90K, X95K, A80K, A90K, A95K, Z95K.

Easily connect BRAVIA CAM to your TV via USB. The integrated camera switch on top allows you to close the camera cover whenever you want more privacy.
---
Sony's Cognitive Processor XR understands how humans see the real world to deliver intense contrast, with deep blacks, high peak brightness, and natural colors.
________________________________________________________________________
Z9K HDMI Input Specifications:
HDMI 4: 4K 120Hz/8K 60 Hz – HDMI 3: 4K 120Hz/VRR/ALLM
HDMI 2: 4K 120Hz/VRR/ALLM  –  HDMI 1: 4K 60Hz
________________________________________________________________________
Want more HDMI 2.1 inputs, Marantz 3×1 switch $199 – Supports up to 8K 60Hz
   
---
________________________________________________________________________
More Features and Specifications:
Mini LED contrast – Thousands of Mini LEDs are controlled with absolute precision by XR Backlight Master Drive delivering unprecedented contrast with deep blacks, natural colors, and maximum brightness.

Wide spectrum of colors – Rediscover everything you watch with billions of accurate colors and see impressive picture quality that is natural and beautiful, enhanced by XR Triluminos Pro.

Premium Smart TV – Google TV with Google Assistant organizes your favorite content all in one place. Stream from Netflix, Disney+, Apple TV, HBO Max, Peacock & many more. Also, stream from your Apple device w/AirPlay 2 support.

Movies included with BRAVIA CORE – Bring the cinematic experience home. Enjoy streaming included high-quality 4K UHD quality movies with the BRAVIA CORE app, exclusively on select Sony TVs.

Enhanced entertainment – Experience immersive and engaging cinematic content as the creator intended with support for Dolby Vision4, IMAX Enhanced, and Netflix Adaptive Calibrated Mode.

Enhanced viewing – Every seat in the room is the best seat in the room with wide viewing angles that preserves color from the side and an anti-reflective screen that reduces glare.

Seamless Edge Bezel frame w/ active tweeters.

Perfect for PlayStation®5 – Take your gaming to the next level with input lag as low as 8.5ms and BRAVIA XR exclusive features for the PlayStation®5 to improve gaming picture quality.

Features specified in HDMI 2.1 – Get the advantage in high-performance gaming with HDMI 2.1 features such as 4K/120, VRR & ALLM.

Enhanced audio – With Acoustic Multi-Audio and Dolby Atmos support, hear true immersive audio with four sound positioning frame tweeters in addition to front-firing TV speakers and dual subwoofers.

Intelligent motion handling – See blur-free picture quality in fast-moving sports and action-packed movies powered by XR Motion Clarity.

Upscale your content to 8K – Bring back lost texture and detail and see all your content upscaled to 8K resolution with XR 8K Upscaling.

Multi-position stand – Beautifully designed to complement your unique viewing experience, offering three variations of flexibility – low-profile immersive setting, narrow furniture setting, or raised to accommodate a soundbar.

BRAVIA CAM included – Enjoy video chat on the big screen, use gesture controls, and allow Ambient Optimization Pro to automatically adjust picture and sound according to your room environment.

Premium backlit remote – All-new, redesigned compact remote with metallic finish ensures you have access to the commonly used buttons while being comfortable to hold. Integrated finder function makes it easy to locate if misplaced.
---
---
BRAVIA Core included w/10 credits to redeem on latest release movies & 2 yrs unlimited streaming of top movies
---
Optionally we offer a VIP calibration service that includes a full Q/C for stuck pixels, abnormal banding, tinting, screen uniformity and any defect in the TV.  Then we do a proper break-in that takes 10 days, and then  our calibrator, DeWayne takes care of the top professional calibration. This full service package costs $750.
________________________________________________________________________
Just having fun with our Sony Z9K in our showroom!  This TV delivers the full dynamic tonal range and color volume of all HDR content live never seen before!!