Technics SB-G90 Grand Class Floor Standing Speaker System
Unwanted vibration of the speaker units and enclosure has been thoroughly eliminated. The G90 floor-standing speaker achieves clarity in sound imaging and fullness in spatial expression. $2,499 each, includes delivery and in-home set-up.
Description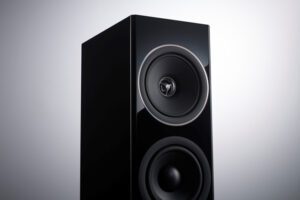 SB-G90 Point Sound Source Speaker System
One ideal in reproducing sound with full spatial expression is to ensure that the wave-fronts emitted from the speaker units are aligned at any listening position, i.e., providing a point sound source. While inheriting the linear phase concept, the SB-G90 has newly developed two-way coaxial cone units (including mid-range and tweeter) targeting high-speed reproduction with enhanced high sensitivity.
Sample

Emotive Acoustic Technology
Point Sound Source Speaker System
Wide Range & Low Distortion Reproduction
Phase Precision Driver (Coaxial 2-way Speaker Unit)
16-cm Low Distortion Long Stroke Woofer
High-quality Network Circuit
Balanced Driver Mounting Architecture (BDMA)
High-rigidity Cabinet
Technics Definitive Design
Black High Gloss Finish
Magnet Fixed Fabric Grille
Type
3-way 4-speaker Bass Reflex (including 2-way coaxial cone units for mid-range and tweeter)
Speaker Units
Woofer: 16 cm (6½") Cone type x 2
Midrange / Tweeter: Coaxial, 16 cm (6½")
Cone type x 1 and 2.5 cm (1") Dome type x 1
Crossover Frequencies
480 Hz, 3.2 kHz
Frequency Range
27 Hz - 100 kHz (-16 dB), 32 Hz - 85 kHz (-10 dB)
Sound Pressure Level
88 dB /2.83 V (m)
Impedance
4 Ω
Input Power (IEC)
100 W (Rated), 200 W (Max)
Recommended Amp Power
40 - 200 W
(Speaker tested by IEC60268-5 Short Term Max Test)
Dimensions (W x H x D)
302 x 1114 x 375 mm
(11 7/8 x 43 27/32 x 14 3/4 in.)
(including fabric grille, terminals and spikes)
Weight (per unit)
Approx. 32 kg
(Approx. 71 lbs)
Accessories
Spike x 4, Spike shoe x 4, Spacer x 4, Base plate x 4, Base plate screw x 12, Rubber foot x 4, Operating Instructions x 1, Speaker net x 1, Cleaning cloth x 1
Technics SB-G90 Grand Class Floor Standing Speaker System


Value Electronics
Authorized Dealer

Technics Grand Class Direct Drive Turntable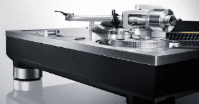 Technics SL-1200G
$3999 Delivered Nationwide.
Technics SL-1200GR
$1699 Delivered Nationwide.