Description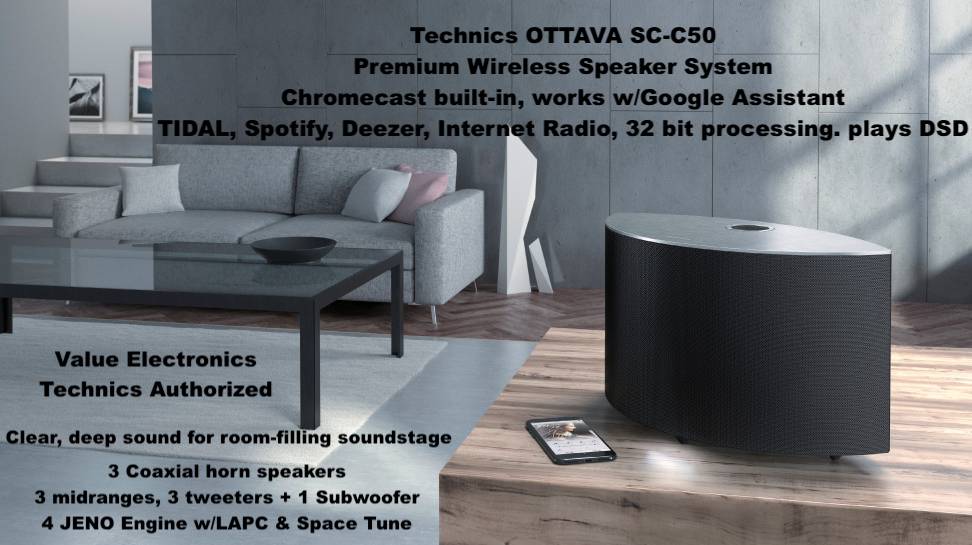 Premium Wireless Speaker System the SC-C50 - Scroll Down to see this beauty with its top off

This smart speaker system will bring out your love of music
Sample

Accurate Digital Technology
JENO Engine (Jitter Elimination and Noise-shaping Optimization)
Load Adaptive Phase Calibration (w/o Calibration function)
Space Tune™
Noiseless Signal Technology
Twin Power Supply Circuit System
Emotive Acoustic Technology
Coaxial Speaker Layout
Directivity-control Horn Structure
Output Power
FTC Output power
Front speaker (L/R): 20 W + 20 W (1 kHz, T.H.D. 1.0 %, 8, 20 kHz LPF)
Front speaker (Center): 20 W (1 kHz, T.H.D. 1.0 %, 8, 20 kHz LPF)
Subwoofer : 40 W (100 Hz, T.H.D. 1.0 %, 4, 20 kHz LPF)
Front speaker (L/R): 15 W + 15 W (1 kHz, T.H.D. 1.0 %, 8, 20 kHz LPF)
Front speaker (Center): 15 W (1 kHz, T.H.D. 1.0 %, 8, 20 kHz LPF)
Subwoofer : 30 W (100 Hz, T.H.D. 1.0 %, 4, 20 kHz LPF)
Speaker Unit
Woofer : 6.5 cm (2-1/2 inch) Cone Type x 3
Tweeter: 1.6 cm (5/8 inch) Dome Type x 3
Subwoofer: 12 cm (4-3/4 inch) Cone Type
Analogue Input Terminal
AUX IN x 1 (3.5 mm) (1/8 inch)
Digital Input Terminal
Optical Digital x1, USB-A x 1
USB-A / Network Playback Support Codec
iPod/iPhone/iPad: No
WAV / AIFF: Yes (32, 44.1, 48, 88.2, 96, 176.4, 192, 352.8, 384 kHz / 16, 24, 32 bit)
FLAC / ALAC: Yes (32, 44.1, 48, 88.2, 96, 176.4, 192, 352.8, 384 kHz / 16, 24 bit)
DSD: Yes (2.8 MHz, 5.6 MHz, 11.2MHz)
AAC: Yes (32, 44.1, 48, 88.2, 96 kHz / 16-320 kbps)
MP3: Yes (32, 44.1, 48 kHz / 16-320 kbps)
Ethernet Interface
LAN (100 Base-TX / 10 Base-T)
Wi-Fi
IEEE 802.11 a/b/g/n/ac, 2.4 GHz / 5 GHz Band
Chromecast built-in
Yes
Works with the Google Assistant
Yes
Multi-room
Yes
Stereo Pairing
Yes (*compatible with Technics Audio Center app) (*coming soon)
AirPlay
Yes
Bluetooth (Support codec)
Yes (AAC, SBC)
Spotify / TIDAL / DEEZER / Internet Radio
Yes
Power Supply
AC 120 V, 60 Hz
Power Consumption
42 W
Dimensions (W x H x D)
375 x 220 x 197 mm
14-49/64 x 8-21/32 x 7-3/4 inch
Weight
Approx. 5.9 kg
Approx. 13 lbs.
Accessories
AC Cord, Owner's Manual
Elegant and Timeless Design
The OTTAVA™ S SC-C50 combines practical function with elegant design. The thick aluminum top panel increases the rigidity of the chassis, and the iconic OLED is surrounded by ring keys for easy operation. Rear louvers add further elegance while enhancing the function of an internal heat-reducing mechanism. And the beautiful arc form, which helps to eliminate unwanted vibration and standing wave in the chassis, incorporates acoustic technology to achieve a wide sound stage. This lets you freely place the OTTAVA™ S SC-C50 to suit the listening position.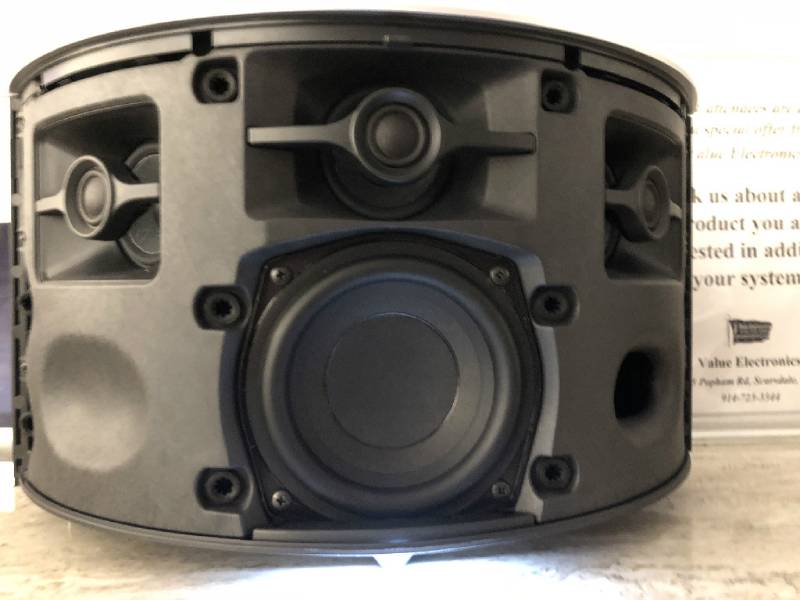 Value Electronics
Authorized Dealer
A Compact Body with a Wide Sound Stage
The arc-shaped body houses 3 midranges, 3 tweeters and 1 subwoofer, while left- and right-angled speakers and a centre speaker create rich stereo imaging and crisp vocals. A "directivity-control horn" eliminates mutual speaker interference to achieve wide directivity, and a coaxial midrange and tweeter ensure vertical directivity with less frequency disorder from the compact body.
Truly Powerful Architecture
Three 1.6-cm tweeters deliver high-res sound up to 50 kHz. This combines with a front-firing 12-cm long-stroke subwoofer and a straight, large-diameter, long port. A total of 7 units in the rigid, glass fiber reinforced body produce powerful sound from the 3.1-channel amplifier.
Twin Power Supply Circuit System
Regular power supplies use one transformer to supply power to the amp, and digital circuits, and so if there is any load fluctuation or if noise occurs on a circuit, other circuits are affected, which results in degradation of the sound quality. This power supply system includes independently installed switch mode power supply circuitry for the amp and the other circuits, which eliminates mutual interference, thereby reducing degradation of sound quality caused by noise or power supply fluctuations. In addition, a layout with dedicated transformer and amp circuits enables the shortest possible connection to further reduce noise.
The Chromecast function supports a wide variety of music streaming services for easy casting from a smartphone app. And since the data is streamed directly to the main unit, there is no degradation in sound quality, and the user can select from a diverse range of music.
Works with Google Assistant
If a Google Voice-activated Speaker is included in the same network, Google Assistant can be used to operate OTTAVA™ S SC-C50 music playback and other functions. When the user doesn't have a smartphone app in hand, or when hands are full, music can be easily played by voice command.
Multi-room and Stereo Pairing
With a number of Chromecast built-in speakers, the variety of music streaming services can be played in several rooms, or different music can be played from room to room. *The Google Home App is required.
In addition, if you use Technics Audio Center app and have another app compatible Technics devices, you can also enjoy other music source in multi-room such as Bluetooth, AUX, Optical input, USB, Internet radio and also OTTAVA™ S SC-C50 compatible streaming music. If two OTTAVA™ S SC-C50s are arranged and set to stereo, you can enjoy highly ambient stereo sound.