STR-AZ7000ES 13.2 ch. Receiver
Value Electronics – Authorized Sony Diamond dealer. STR-AZ7000ES in stock & shipping now!
Email

or call us 914-723-3344 with questions.
Description
Sony's new Flagship AZ7000ES 13.2 channel, 150 Watts per channel. Works w/wired speakers & integrate Sony Wireless Speakers if you like.

Here's some of my favorite new features of Sony's 2023 ES receiver line-up
1. Dual center channels (The center channel can drive two center channel speakers so one positioned below and one above the TV for a clear and large center channel sound stage).
2. With any Sony XR series TV you can use the TV screen as your center channel speaker or even use the TV and a 2nd center channel speaker.
3. Center Lift – to raise the sound coming from the venter channel speaker, which will make the sound imaging accurate when the TV is mounted higher than normal, like over a fireplace.
4. On-screen menu is very nicely advanced with new control over your systems individual use needs and new features.
5. 360 Spatial Sound Mapping for the most accurate set-up and calibration of the audio equalization.
6. Works with wireless rear/heights speakers and wireless SubWoofers.
7. Rated to power 4 Ohm speakers.
8. Chromecast built-in, Spotify Connect & Apple AirPlay. Works w/SONOS.
---
Sony's AZ7000ES brilliantly designed so you can add Sony's SA-RS3 or the SA-RS5 wireless speakers and also add 1 or 2 Sony wireless SubWoofers.

Pictured left is Sony's SA-SW5 Wireless SubWoofer.
Use any normal hard wired passive (w/sub amp) or hard wired powered (Self Amplified) SubWoofers or use one or two of Sony's Wireless flagship SA-SW5 or select Sony's SA-SW3 Wireless SubWoofers for smaller rooms.
________________________________________________________________________
SA-RS5 works w/the included rechargeable battery or a/c power

1 – Up-firing speaker
2 – Soft Dome Type Tweeter
3 – Wide Directivity Woofer
4 – Dual passive radiators
Not pictured, but also built into the wireless rear/up-firing speakers are two very accurate calibration microphones are also built-in that integrate perfectly with all of Sony's new 2023 ES Receivers with the receivers built-in Auto Calibration Program.
Experience 360 Spatial Sound:
SA-RS5 delivers a total 180W with its two additional Wireless Rear Speakers that also have up-firing Dolby Atmos/DTS:X Height speakers with Built-in Rechargeable Battery.
The SR3 and SR5 have forward facing and up firing speakers have two dedicated amplifiers in each of the SR5 and SR3 speakers to best drive all of up firing and forward speakers with their own dedicated amplifiers.
The SA-RS5 speakers work with Sony's AZ7000ES as the up-firing speakers and wide directivity woofers for 360 Spatial Sound Mapping to create multiple phantom speakers around your room.  When you're surrounded on all sides by multiple phantom speakers within an optimized sound field, you'll hear every sound with incredible intensity. It will fell like you and your living room are inside the movie.
_______________________________________________________________________________
Premium Design and Build Quality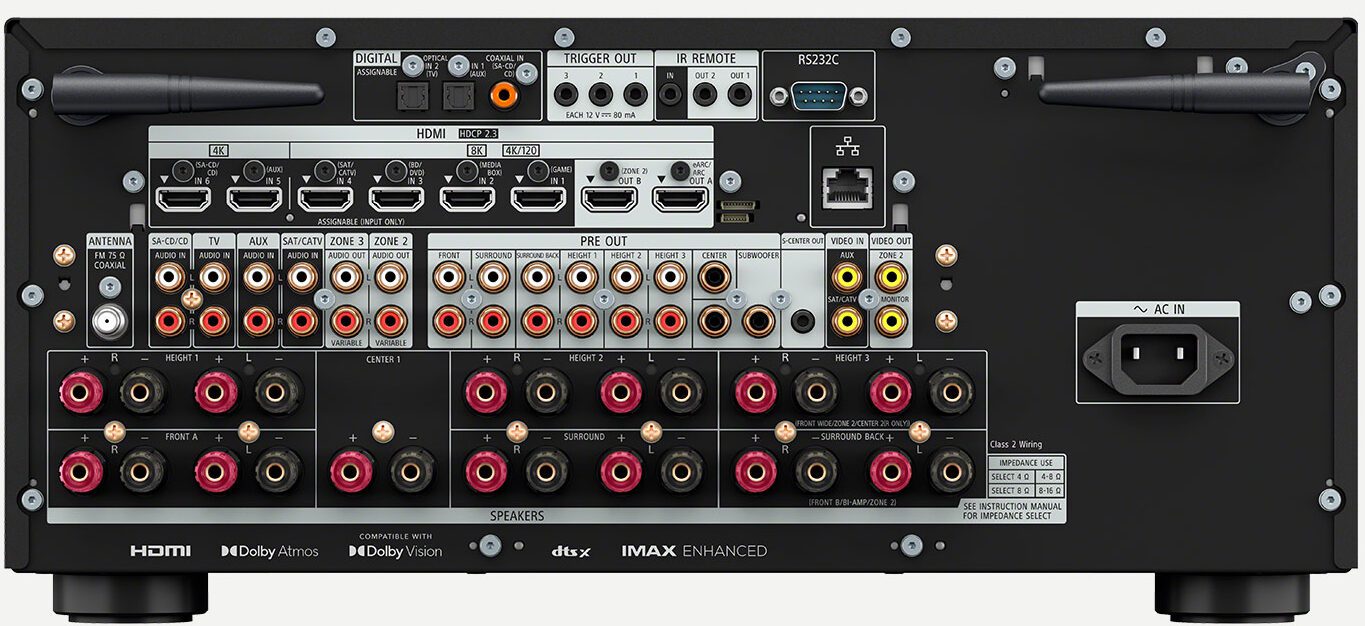 _______________________________________________________________________________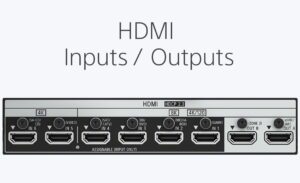 7 HDMI Inputs/2 Outputs
The STR-AZ7000ES has seven HDMI inputs with four inputs supporting full 8K & 4K/120 video sources, and two HDMI outputs that also support full 4K/60Hz video sources.  The 7th HDMI input is located on the front panel.
---
Hi-Res Audio & 360 Reality Audio
Enjoy music the way the artists truly intended with High-Resolution Audio for crystal clear precision or discover a new way of listening with 360 Reality Audio for a truly immersive live concert or studio session experience.With the STR-AZ7000ES, your music comes to life like never before.
_______________________________________________________________________________

Sony's very easy to operate remote control for all of the new ZA ES Series and the entry level AN1000 series A/V Receivers.
The only differences are the additional features and controls in the menus as you move up the through the premium ES series line-up.
---
More Features:
13.2 CH A/V Receiver (150W + 150W 8ohms, 1kHz, 2ch, THD 0.9%)
8K & 4K/120 HDMI Connectivity with HDMI 2.1 support (7-in/2-out)
Supports Dolby Atmos® & DTS:X® & DTS:X Pro object-based sound decoding
Truly Immersive audio with Digital Cinema Auto Calibration IX and 360 Spatial Sound Mapping
Supports today's leading HDR formats Dolby Vision, HDR10, Hybrid Log Gamma, IMAX Enhanced
"Works With SONOS" makes it possible to integrate the STR-AZ7000ES with your new or already existing SONOS system
Stream your way with Bluetooth®, Wi-Fi, Chromecast built-in, Spotify Connect, and Apple AirPlay®
Connects to your home's other devices with Google Assistant
Zone 2 & Zone 3 enables Flexible multi-zone distribution capability
Premium componentry meets ES standards for audio performance
Center channel enhancements include Center Speaker Lift Up, Acoustic Center Sync, and Dual Center Speaker
Control with Sony Music Center app
Three 12-volt triggers for external peripherals, amplifiers, and more
Three IR repeaters (1-in, 2-out) for external device control

Sony AZ7000ES comes with Sony's 5-Year Limited Warranty
_______________________________________________________________________________
Sony's demo room showcased the AZ7000ES demonstrated with the full 13 channels powered
These pictures shows the front of the room with the 3 front subs and you can see the front L/R, and the center speaker is behind the screen, and the 2nd picture shows the left and part of the right side of the same demo room with the 4 heights, 4 wides and the two in wall rear speakers.
To make this demonstration more changeling and to put the AZ7000ES through the toughest test these were all 4 Ohm very high-end Keff speakers  Specifically this was a 5.6.8, speaker system that exploited the power and full capability of the new flagship AZ7000ES with all 13 channels firing and 6 Sub Woofers.