Hisense L9G UST 4K HDR RGB TriChroma Laser Projector w/100″ ALR UST Screen included
Winner of our UST Projector Shootout Evaluation!  We crowned Hisense's L9G      "King of UST Projection"
Available with your choice of Hisense's 100″ CINEMA Screen or the 100″ High Gain Screen. Free Nationwide Shipping!
Description
4K UHD Resolution 3840 x 2160 – 3000 lumens – Smart enabled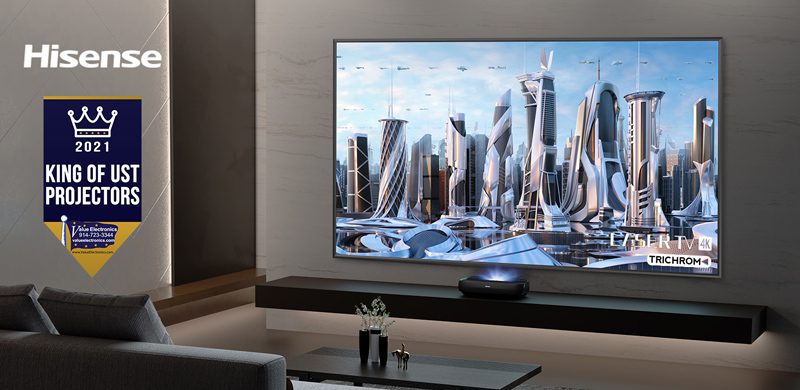 Dedicated Red, Green & Blue lasers, No RGB wheel
Order now with your choice of 100″ for moderate to high ambient light use or the 100″ Cinema quality screen for moderate to low 

ambient light use
L9G-CINE100 .pdf Spec Sheet includes 100″ UST ALR Cinema screen at no charge.
---
Hisense's new L9 TriChroma R, G, B Lasers achieve 107% BT.2020.
With 3000 peak Lumens and uniformity across the entire screen the L9G performs beautifully in well-lit spaces and achieves excellent dynamic range for bright highlights and deeper blacks.
The L9's has a premium built-in 40W Dolby Atmos Sound.  L9G is also WiSA ready, pair L9G with wireless surround for an immersive home theater experience.
CalMAN calibration capable so you can tune up the L9 to deliver the very best picture quality.
---
Increase your Hisense 100L9G 2 yr warranty to a total of 6 yrs for $350.
Additional information
| | |
| --- | --- |
| 100L9G | 100L9G-CINE100 w/low to moderate ambient light screen, 100L9G-DLT100A w/high gain screen |