Sharp 2023 AQUOS QD MiniLED XLED Series 4K HDR TV with over 2,000 dimming zones & deep blacks & high peak luminance
 75″ AQUOS XLED TV
$2,999 

–  65″ AQUOS XLED TV

$2,499
Free Nationwide delivery.

email

or call 914.723.3344 w/questions
Description
Sharp AQUOS XLED QD MiniLED TV w/deep blacks & high peak luminance!

You will see & enjoy Sharp AQUOS XLED Deep Chroma Quantum Dot Color

Photos by Robert Zohn of Value Electronics at Sharp's off site private suite at CES 2023.
---

Use your voice to operate your TV more conveniently. Google Assistant compatible
With a hands-free microphone built into the main unit, you can search for movies, play music, and operate the TV by speaking after saying "OK Google". You can also turn on the power with your voice without touching the remote control.
---

Equipped with direct buttons for 8 video services on the backlit Illuminated remote control (Netflix / Prime Video / U-NEXT / Hulu / YouTube /Disney+)
Even when the TV is turned off, you can immediately launch popular video services simply by pressing the direct button. In addition, since the remote control is equipped with a microphone, you can search for the program you want to watch by voice. With a slim and lightweight design, we were particular about ease of holding.

---
Sharp's new flagship AQUOS XLED TV comes with rotating table top pedestal stand
Equipped with a newly designed stand. A new rotation lock mechanism is used to prevent unintended rotation of the display. It also has a cable management mechanism that allows you to easily organize cables. It can be installed so that the cable cannot be seen from the front.

---
Easy-to-read 4K high-definition display and a program guide that displays information on programs and performers with images in an easy-to-understand manner
---
Here's Some More Detailed Specifications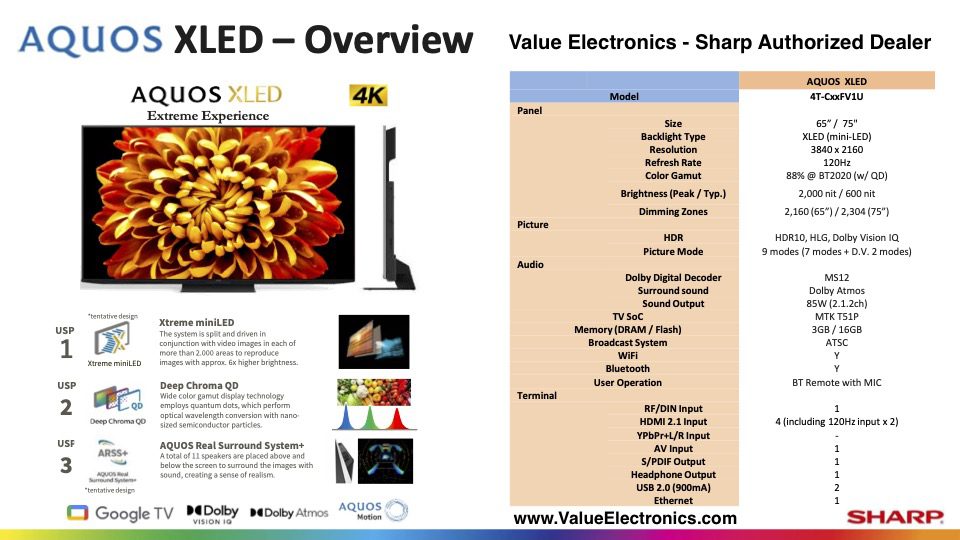 Sharp 75″ AQUOS XLED 4TC75FV1U – Sharp 65″ AQUOS XLED 4TC65FV1U
Resolution: 3,840 horizontal × 2,160 vertical pixels
Light source employed: mini LED (direct type

)
HDR compatible: (HDR10 / HLG / Dolby Vision)
Connecting Terminals:
– 4 HDMI inputs. Input 3: eARC/ARC compatible. Input 3/4: 4K120Hz & VRR/ALLM compatible
– AV input/input 2 audio input terminal (3.5mm minijack)
– Digital audio output (optical) 1 system 1 terminal.
– Headphone output/analog audio output terminal 1 system 1 terminal.
– Terrestrial digital antenna input terminal.
– USB3 System 3 terminals (for recording: 1 terminal / for memory: 2 terminals),
– LAN 1 system 1 terminal (10BASE-T/100BASE-TX)
Standby power consumption (entire TV & audio): 0.5W
Accessories included: Table stand, remote control, batteries, user manual, and warranty card.
---
11 Speakers, 2 tweeters, 4 midrange, 1 subwoofer, 2 height tweeters, 2 height midranges, audio output 85 Watts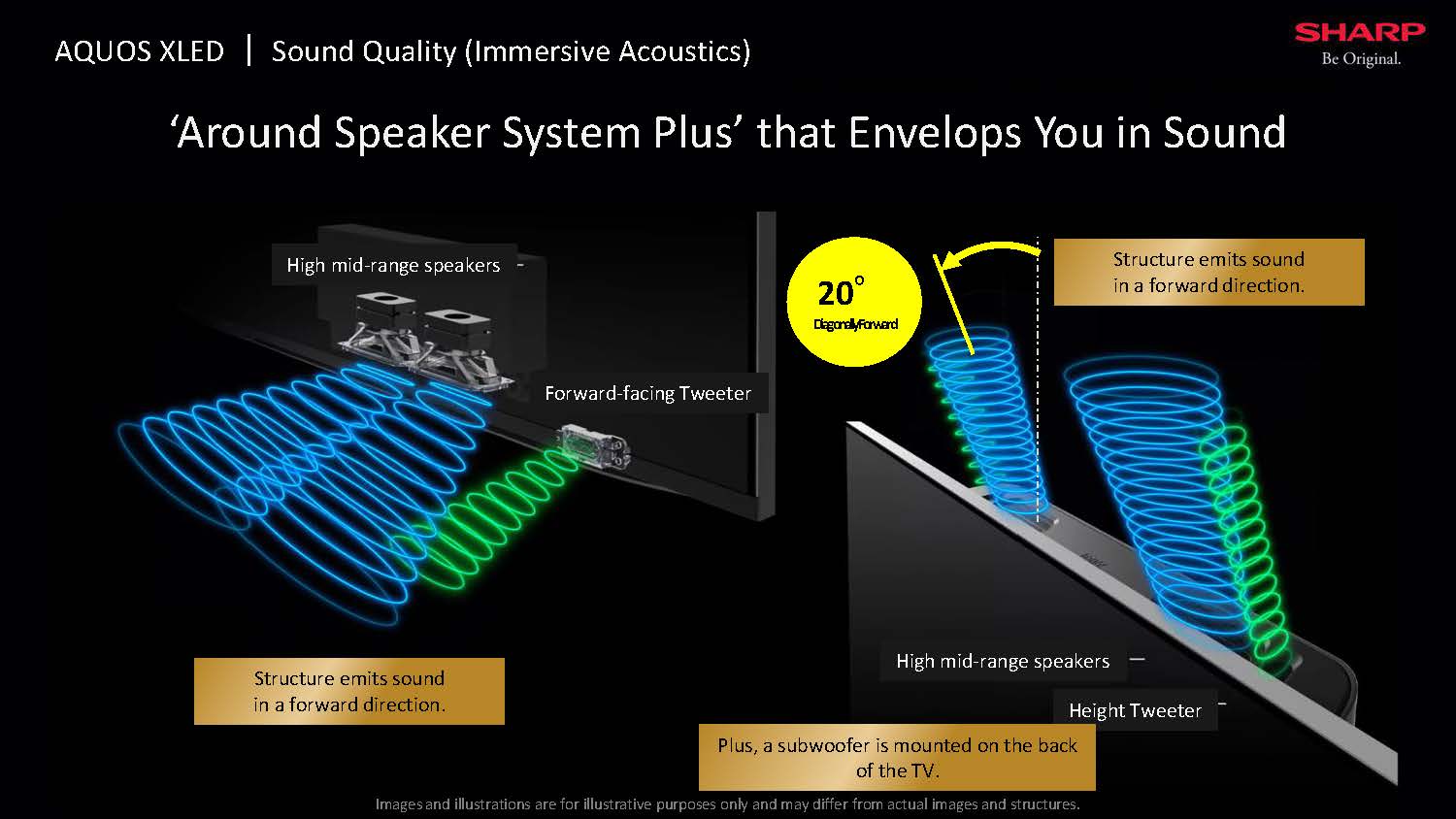 ---
Mirror/camera app "Living Camera" – Requires connection of an external USB camera (sold separately)
Equipped with a camera app "Living Camera" that allows you to check your appearance while watching the weather forecast and take family photos in the living room. How to enjoy TV in the living room spreads.
---
The Relax View Picture Mode automatically switches to images that reduce eye strain during a specified time period.
---
More features:
・4K super-resolution up-conversion:
It restores the detail, reality, and brilliance of various images such as terrestrial digital broadcasts, Blu-ray discs, and Internet videos, and up-converts them to 4K resolution images of approximately 8.3 million pixels.
・"N-Black panel" that expresses glossy black while suppressing reflections such as lighting:
The low-reflection coating on the panel surface uses a nanocapsule-containing material that encloses air. By minimizing the difference in the refractive index between the panel surface and the air, which causes reflections, it suppresses reflections of external light and reflections of lighting, which tend to be a concern on large screens.
・"Object profiling" to restore the original beauty of the image:
It analyzes the movement, outline, and texture of the subject contained in the video signal in real time, and restores information such as the original sense of detail, contrast, and color.
Equipped with an "Internet video clear correction" function that reproduces Internet video, whose resolution changes depending on the line status, with clear images.
・Compatible with all 3 HDR standards "HDR10", "HLG ", "Dolby Vision HDR.
---
Sharp also showed their new 120″ Native 8K Monitor in Sharp's off site suite at CES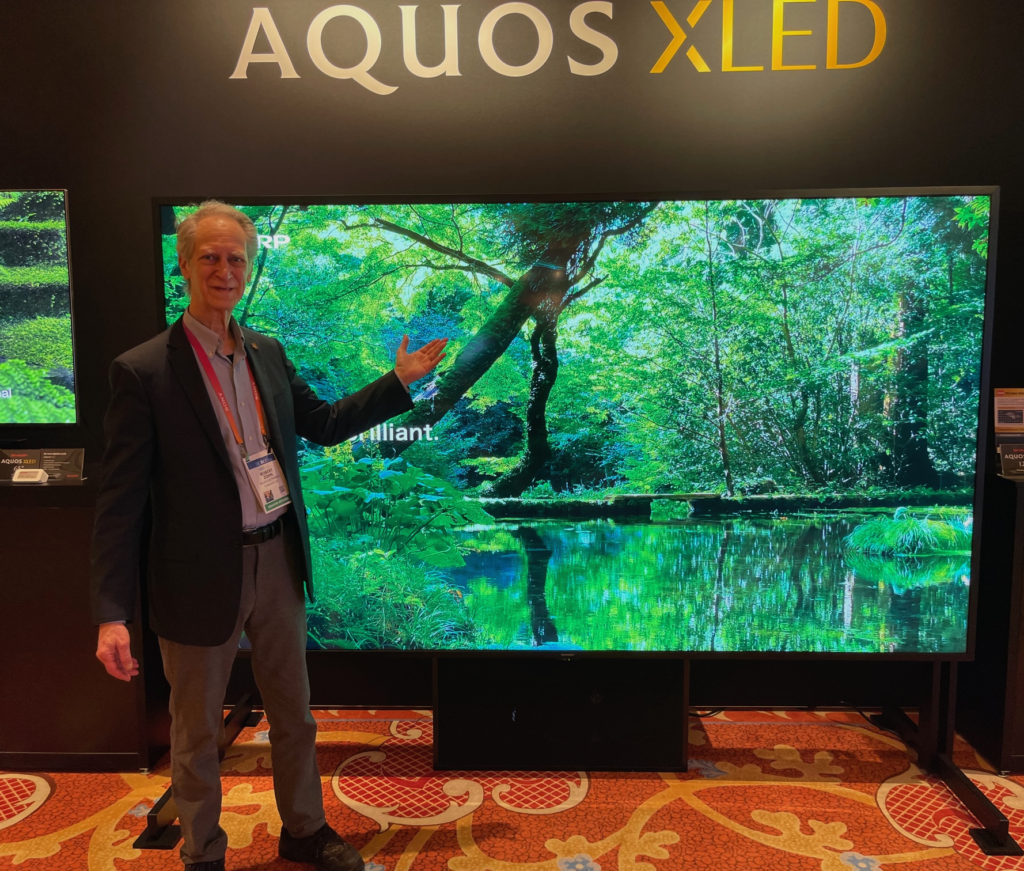 ---
They're baaaa-ck! The Sharp AQUOS TV brand, now under the control of Sharp Corp. Officially announced its re-entry into the U.S. TV category with an ambitious "tier one" performance line of 4K Mini-LED quantum dot televisions it calls XLED, and the world's first 4K OLED Roku TV.

Sharp's Jim Sanduski (Left), Peter Weedfald (Right) & Robert Zohn (Center) From Scarsdale, NY ValueElectronics Specialty A/V Store Celebrate The Performance of Sharp's AQUOS XLED 4K Mini-LED Quantum Dot Television at CES 2023
---
4 Best Reasons Why TVs Can Improve Your Lifestyle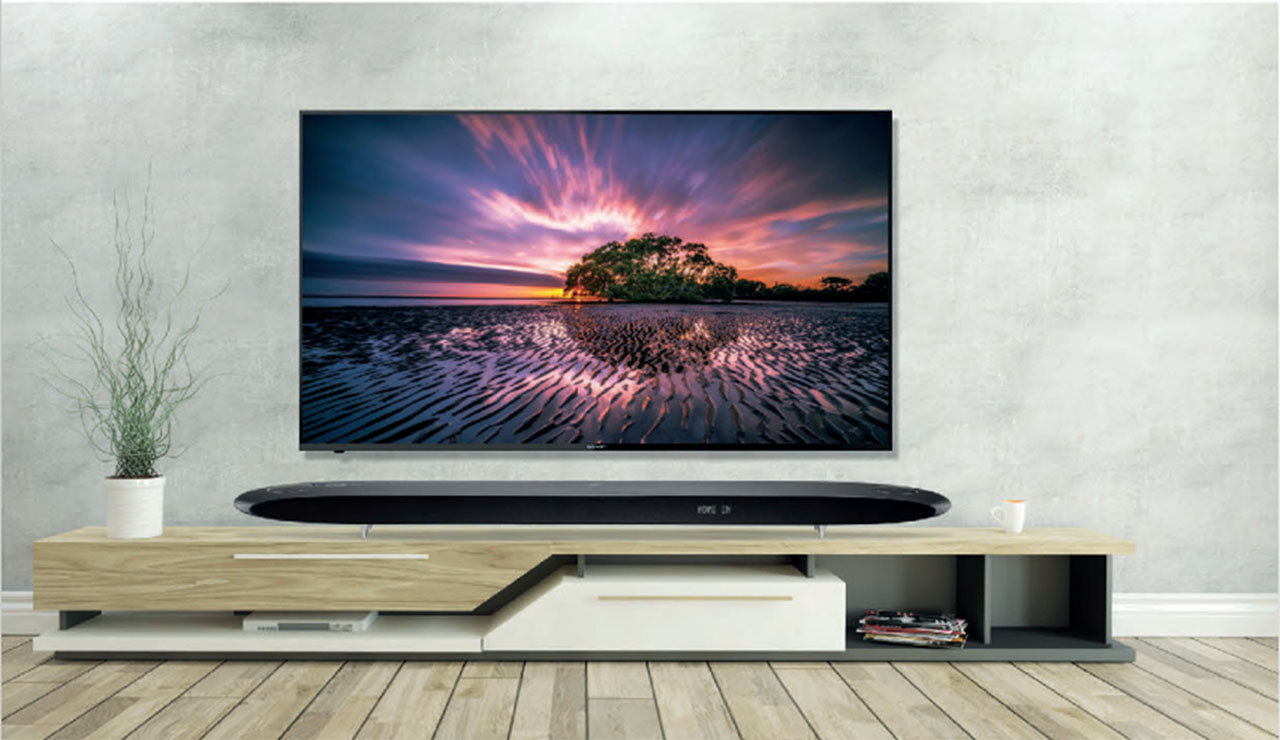 TV has played an integral role in our modern life since it has replaced radio as the most popular mass medium in the 1950s. Due to advances in Internet technology, the television industry has been seeking ways to make TV viewing more accessible and engaging. For some, it isn't easy to imagine being without it at home.
While television has at times been acclaimed for being a great source of entertainment, knowledge, and communication, it has also been condemned for negative influences on the viewers.
The criticized point of calling television a mental killer and has an evil influence on society deserves consideration. However, a growing number of studies unexpectedly revealed that watching television may improve your health and overall lifestyle.
Thus, you'll understand that the negative statement is nothing else but a stereotype after reading this article.
Stay Connected to The World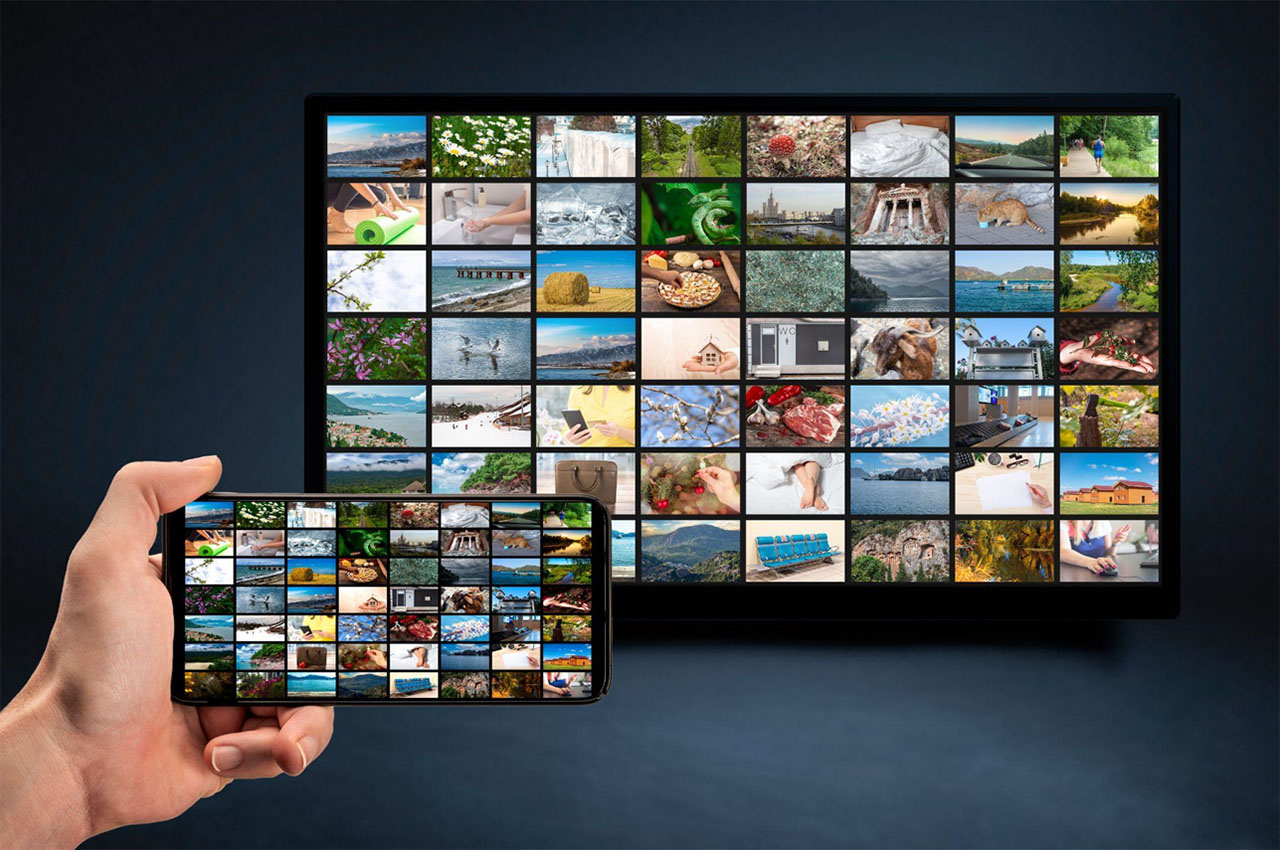 As one of the widely used communication media nowadays, you can reach millions of useful information on the TV. You can get a whole look over the globe by accessing a range of channels or internet radios, enabling you to catch up on the latest trends and stay updated.
What's more, you can even surf your favorite social media networks on a bigger, clearer screen with the upgraded version of modern TVs. Streaming services such as Netflix are the perfect time-killer, especially during the pandemic that forces us to spend more time at home.
Also, you can explore the world's latest trend from daily recommendations on video sharing services like Youtube at the touch of a remote button.
Boost Happiness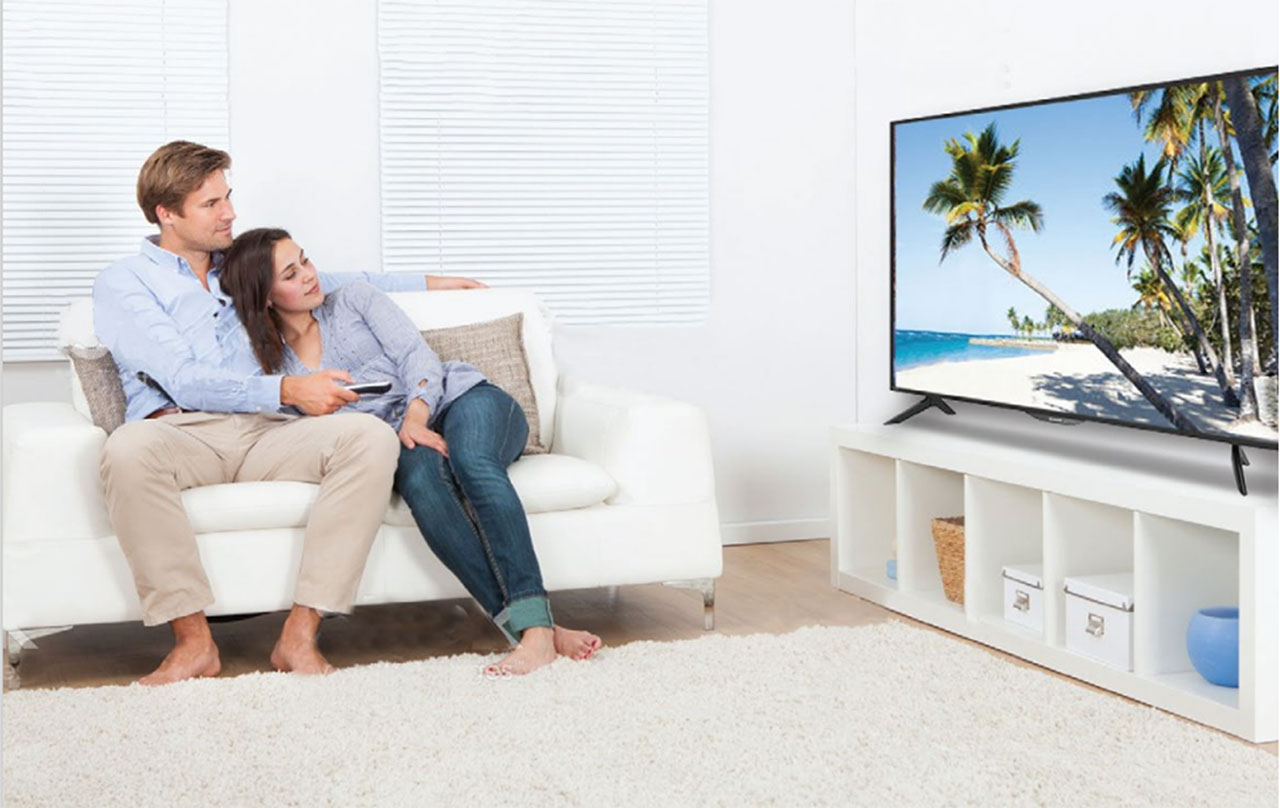 Watching feel-good shows on TV may freshen your mood and help you feel more optimistic. Also, subscribe to web-based streaming video or audio services can offer you the utmost satisfaction, comfortability, and happiness.
From a scientific perspective, dopamine is released when we are exposed to new images, sounds, people, and dramas.
Shawn Actor, a Harvard-educated researcher and author of The Happiness Advantage, asserted that watching TV can be a fast way to improve happiness if done right.
Says Everydayhealth, watching television can also rejuvenate your brain, improve your immune system, increase social support, and helps you learn to overcome challenges in life.
Your Best Work Out Companion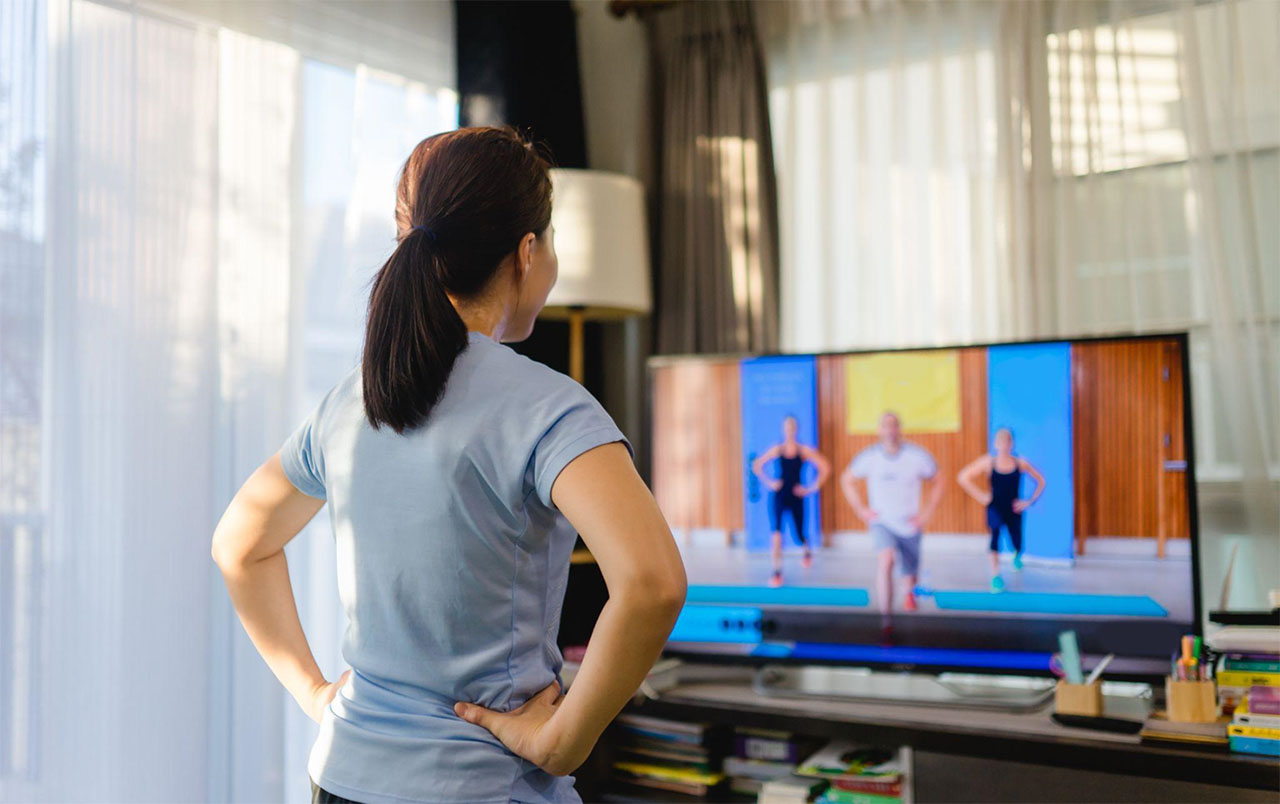 It may sound strange, but you have an opportunity to stay fit without going to the gym and sticking to strict diets by having a TV at home.
Doing physical exercises while watching television shows focus on health and fitness is one of the most effective ways to burn calories at home. You can follow the instructions given by the virtual fitness coach and repeat them on your own without the need to travel to the gym room or pay expensive membership fees.
Enjoy the Family Bonds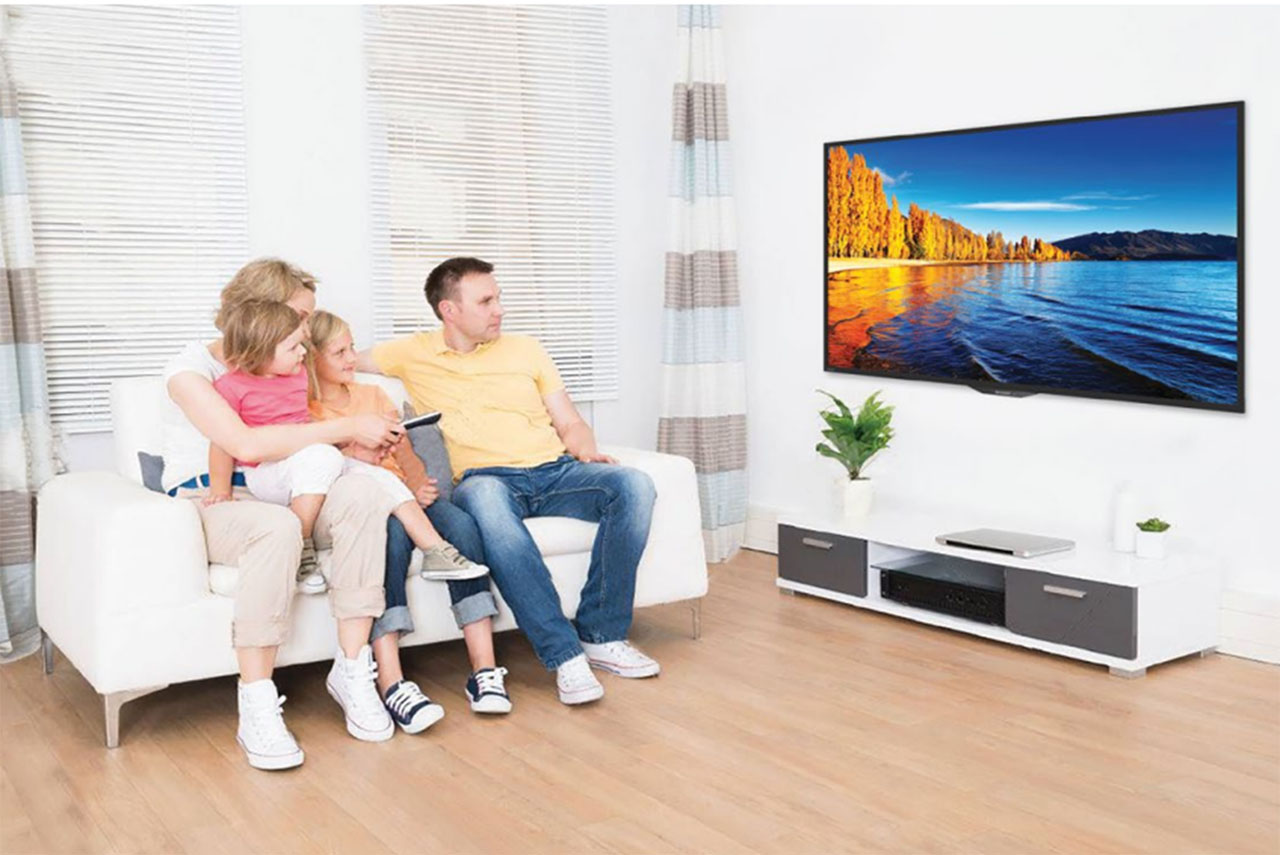 Good habits of watching educational programs can enhance your children's knowledge, broaden their horizons, and develop a better parent-child relationship. Parents can watch such programs or shows with their children together and answer any questions they raise.
Moreover, with smart TV models, parents can also access certain educational games and applications to strengthen their relationships with children further.
What's more, family members can play multiplayer games together on a smart TV that offers them a more realistic gaming experience while spending some home-sweet-home time together.
Your better lifestyle starts with Sharp's new flagship AQUOS XLED TV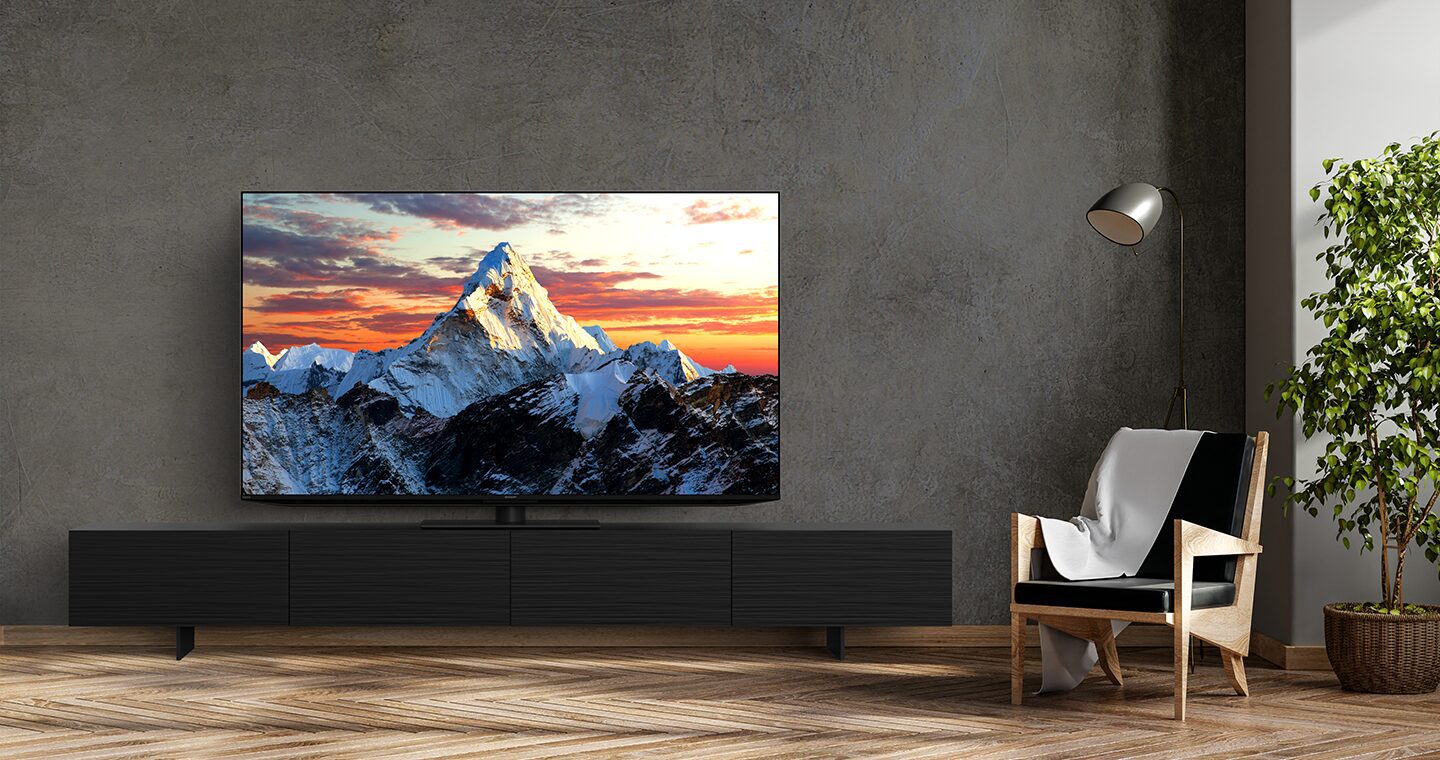 Captures Real Beauty
SHARP AQUOS TV provides you a wider color gamut, giving you access to the colors that exist naturally in the world. AQUOS TVs optimize realistic tones for precise color. In order to pursue the 'real' aspect of objects, details, and contrast are also finely tuned.
Clear and Powerful Sound Quality
With a further improved unique reflector attached on the bottom (reflector area improved +60% vs. previous), all sounds go frontward so that you can enjoy clear and dynamic sound in a wider area.
Smart TV Series – SHARP Android TVs

Android TV™ with Google Assistant provides a smarter viewing experience. You can quickly access entertainment, get answers on the screen, control smart devices around your home, and more by just using your voice.
Android Gaming on the Big Screen
 Android TV™ offers a new way to play Android games on your phone, tablet, or TV.You can enjoy a variety of console-style Android games on your smart TV with a gamepad or immerse yourself in arcade racing, 2D side-scrollers, 3D battles, and beautiful adventures.Download multiplayer games on Google Play Store and connect up to 4 wireless controllers to your TV.
YouTube™ lets you watch the best internet videos in just one click. Explore the world's latest trends from its daily recommendations, and subscribe to video channels to stay updated with the latest videos.
Watch thousands of TV shows, movies, and Netflix® original programs on your smart TV now.
Experience the world's smartest search engine within our web browser to make your searching easier. Type anything on the home page, and the Google search engine will find the best match for you, right on your smart TV.
Additional information
| | |
| --- | --- |
| AQUOS XLED | 65" XLED 4TC65FV1U, 75" XLED 4TC75FV1U |