Sony SA-RS5 Wireless Rear Speakers with Up-Firing Heights
Sony's SA-RS5 utilize the latest technologies to deliver the optimal audio quality and wide directivity for 360 Spatial Sound Mapping.  When paired with Sony's XR TVs you can use the TV actuators as the center channel speaker.
Description
Here's the new flagship SA-RS5 wireless rear speakers:

What's inside each SA-RS5 speakers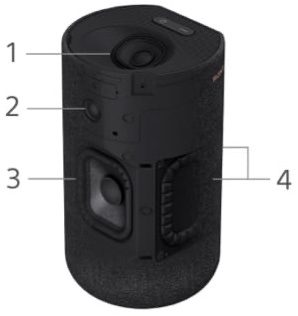 1 –  Up-firing speaker
  2 – Soft Dome Type Tweeter
  3 – Wide Directivity Woofer
  4 – Dual passive radiators
Immersive audio from up-firing speakers
For more immersive overhead audio, up-firing speakers reflect sound off the ceiling.
The rear speakers feature both a woofer and a tweeter, creating a rich, expansive soundstage that offers exceptional clarity. Dual passive radiators enhance low-end tones, giving bass a boost.
2 x 90W power output makes these speakers the perfect support act for your soundbar, bringing both movies and music to life.
Place them on a table or easily mount them on a wall – wherever they fit your room best.
Flexible layout – no power outlet needed
Designed to be flexible to your environment, no wires and internal batteries mean these speakers can be used completely cable free, or with AC power, whichever you like.
Operates with AC power or Cable-free, battery power set up with up to 10-hour battery life and quick charging
With up to 10 hours of battery life when fully charged you can set these speakers without worrying about an AC cable. You can charge them out of sight and bring them out when you need them. And if you're in a hurry, just 10 minutes of charge will give 90 minutes of use.
One button optimizes the sound field to your room.
Activate Sound Field Optimization any time by pressing the OPTIMIZE button on the unit. These speakers combined with a compatible soundbar1 intelligently measure the distance between speakers and ceiling using dual microphones in each speaker for smart and easy set up.
---
While you're here select your wireless sub woofer or wireless SA-RS3 rear channel surround back speakers:
SA-SW3
Enjoy dramatic sound with the SW3 subwoofer
Direct wireless connection with HT-A9/A7000
200W of rich, powerful bass from a 160mm driver
Quick and easy setup to HT-A9/A7000 soundbar
Magnetic Circuit for deep, clear bass
Omnidirectional Block Design to match HT-A9/A7000
Bass Reflex speaker unit for deeper bass

SA-SW5
Experience powerful, deep base with the SW5 wireless subwoofer
Add depth powerful bass with 300W, 19L
Wireless connectivity and quick and easy setup
Deep bass and further clearness and fidelity
Omnidirectional Block Design to match HT-A9/A7000
---
SA-RS3S wireless rear speakers
Direct wireless connection with HT-A7000 Soundbar
Total 100W power output brings music and movies to life
Quick and easy setup
Omnidirectional Block Design with room-filling sound
Wall mount-capable rear speakers
Two-way speakers for clear, expansive sound