LG HU85LA UST 4K HDR Dual Laser Projector
HU85LA on sale for $3,999 until 7/17 or while supply lasts!
Description
Key Features LG HU85LA Ultra Short Throw UHD/HDR Laser Projector
4K UHD Resolution 3840 x 2160 | 2700 lumens | Up to 120" screen size | Supports HDR10 | WebOS Smart enabled
Technical Specifications: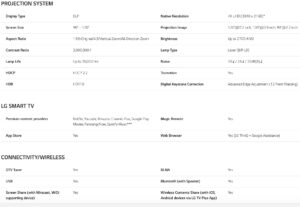 Value Electronics
Authorized LG Dealer
Ask us about our promotional offers for pairing LG's HU85LA with an UST ALR screen, Salamander's custom cabinet or the 6 yr warranty.
Email us w/questions
LG's HU85LA UST Dual Laser Projector
Includes 2 yr. warranty  –  Increase the 2 yr warranty to a total of 6 years of coverage for $350
Price $4,997, plus we gift our HU85LA clients with a 10% store credit so you will have $500 to go towards any a/v equipment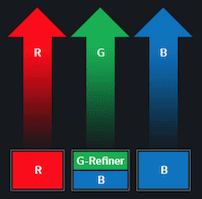 Dedicated Red and Blue lasers, no DLP RGB wheel
HU85LA's Standard connectivity options include USB, Ethernet and HDMI, as well as Bluetooth support for external devices, like a keyboard, mouse & headphones.